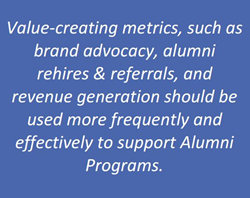 There has been a large increase in new Alumni Programs, with programs started 2 years ago or less making up 47% of a significantly larger survey population in 2016
(PRWEB) March 29, 2017
Conenza, the leading provider of Corporate Alumni Management software and services, today released the 2016 Alumni Program Benchmarking Report. The Report, now in its third year, summarizes the results of surveying Alumni Program Directors from a wide range of geographies and sectors.
The annual study takes a close look at leading Alumni Programs from around the world. The comprehensive report features:

Key takeaways from the annual survey
Alumni Program business drivers
Alumni Program size and growth rates
Program budgets and resources
Metrics for success and challenges
Alumni Program goals for 2017
"To remain competitive in today's networked world, companies need to engage with alumni as brand advocates. Alumni Programs enable organizations to maintain lifelong relationships between current and former employees, where everyone benefits." said Tony Audino, CEO and founder of Conenza. "This research provides valuable insight and inspiration to companies who already have a formal corporate alumni program as well as to those just beginning."
To download the complete study, visit: https://www.conenza.com/2016-benchmarking-study
About Conenza
Conenza has over twenty years of experience in helping market-leading organizations build and manage Alumni Programs that create lifelong relationships, cultivate brand advocates, generate revenue opportunities, facilitate rehiring and maintain access to critical knowledge. Conenza's cloud-based Engagement Platform and related services are designed specifically for organizations that want a cost-effective solution combined with a strategic partner to help them design, implement, launch and grow their Alumni Program. For more information, visit http://www.conenza.com.