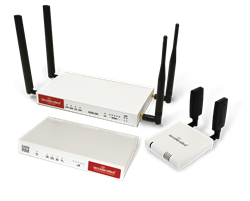 Customers and resellers are looking for reliable options that ensure resilient connections capable of driving business operations
Orange County, CA (PRWEB) March 29, 2017
Accelerated is excited to announce its upcoming participation in the ASCII IT Success Summit event held at the Hyatt Regency Orange County (CA) on March 29th and 30th. Jason Dorough, VP of Sales, will present the Accelerated Advantage and its vital role in business continuity on Thursday March 29th in the Royal AB Ballroom at 2pm PST.
Customers can build reliable, always available backup networks for superior business continuity thanks to the Accelerated lineup of multi-carrier LTE routers and the easy-to-use Accelerated View cloud management platform. Accelerated also offers additional value through services such as its Hardware-as-a-Service financing options and multiple LTE airtime partnerships to provide comprehensive solutions that are both affordable and user-friendly.
Accelerated's 6300-CX LTE Router delivers optimized 4G data connectivity by seamlessly integrating with existing firewalls, routers, or other networking equipment. The 6350-SR LTE Router provides the fastest cellular speeds commercially available (LTE Advanced) while serving as an all-in-one appliance with traditional router functionality and optional WiFi. "Customers and resellers are looking for reliable options that ensure resilient connections capable of driving business operations," Dorough said. "Our clients deserve solutions that are simple to purchase and maintain while also fitting within their budget." Please visit the ASCII conference to meet with the Accelerated team and find out how your business can benefit from their superior LTE solutions.
About Accelerated
Accelerated is a hardware designer and manufacturer specializing in cellular (LTE) networking equipment. Its initiatives – both OEM and commercial – include the ongoing development of the Accelerated View™ cloud management platform, enterprise VPN gateways, as well as an ever expanding line of LTE routers and network appliances for primary or backup connectivity (business continuity). Providing the backbone for failover and M2M/IoT solutions, Accelerated equipment delivers serviceable internet access to areas with limited broadband availability. These devices can be configured, monitored, and maintained remotely using Accelerated View, granting unrivaled control to network administrators and the organizations they support. Accelerated Concepts, Inc. is a privately held company founded in 2006 with headquarters in Tampa, Florida, and offices in Chicago, Illinois and Brisbane, Australia. Visit accelerated.com for more information.