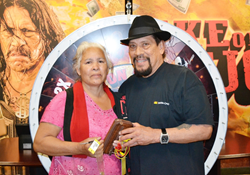 San Jacinto, CA (PRWEB) March 29, 2017
On March 25th at the casino, the 2017 Chevy Silverado was the grand prize and of the casino's month long "Take on Trejo" promotion. In addition to winning cash, free slot play and the truck, Club Soboba Members were also able to come in to meet the action star in person, take a picture with him, and get an autograph.
Danny Trejo had the honor of calling the grand prize winner of the 2017 Silverado at 9 PM, as the crowd gathered he announced; "and the grand prize winner is…… Danny Trejo!" the crowd chuckled as he continued; "I'm joking!" Trejo then said; "the grand prize winner is… Angelica Viera!"
Angelica and her husband made their way to Soboba Casino's promotional area, appropriately named "The Winner's Circle", and there "Machete" happily handed over the keys, congratulating the lucky winner in Spanish.
According to Viera, "We were enjoying our food at the Soboba café when I saw my name come across the big screen!" she continued "We were so excited I became very nervous! We ran over so quickly we totally forgot about our dinner. This is truly a blessing!"
"Anytime one of our local guests wins the grand-finale, we are simply thrilled for them," said Michael J. Broderick, Director of Marketing at Soboba Casino "Viera and her husband have told us that they feel lucky to have won the Silverado here at Soboba, but we are the lucky ones. Lucky to have them!"
Soboba Casino features approximately 2,000 of the newest, hottest slot machines, an expansive and modern non-smoking room, 20 classic gaming tables featuring all your favorite card games, an engaging tables experience with the advanced Baccarat gaming systems and a large outdoor event arena which easily accommodates over 10,000 people. Need to recharge & refresh? Visit the cozy Soboba Café and Coffee Kiicha, or experience AC's Lounge with full cocktail bar and three giant HD flat screens including the "Sobobatron," the Inland Empire's biggest HD video wall. Soboba Casino is proudly owned and operated by the Soboba Band of Luiseno Indians. Come join us for all the fun and then some! Soboba Casino. Where Everybody Goes to Play!
For more information visit: https://soboba.com/
Soboba Casino: 23333 Soboba Road, San Jacinto, CA 92583, (951) 665-1000