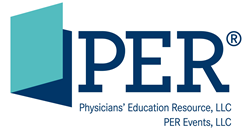 "We are very excited for this year's SOGO™ meeting. We started this program last year to address the truly unmet educational needs for a multidisciplinary event that brings together GI cancer specialists from different practice settings." - Phil Talamo
Cranbury, NJ (PRWEB) March 29, 2017
Physicians' Education Resource® (PER®), will host the 2nd Annual School of Gastrointestinal Oncology™ (SOGO™), a specialized continuing medical education conference for clinicians who manage some of the most difficult-to-treat forms of gastrointestinal cancers, on April 29 at Intercontinental Time Square, New York.
The program will be led by co- chairs Dr. John Marshall, chief of Division of Hematology/ Oncology, Georgetown University Hospital and director of Ruesch Center for the Cure of Gastrointestinal Cancers in Washington D.C., and Dr. Michael A. Choti, the Joan and Dr. George Bayoud Professor, Surgical Oncology, UT Southwestern Medical Center in Dallas, Texas.
In the making the announcement, PER® President Phil Talamo said, "We are very excited for this year's SOGO™ meeting. We started this program last year to address the truly unmet educational needs for a multidisciplinary event that brings together GI cancer specialists from different practice settings. We designed the agenda with different tracks that allow attendees to choose what they want to hear in different rooms, and then come together in real tumor-board sessions. It is without a doubt the most unique GI-focused CME conference in the United States."
This year's one-day School of Gastrointestinal Oncology™ meeting will continue to provide a multitrack curriculum program focused exclusively on management of gastrointestinal tumors. The agenda will focus on the latest data on prognostic and predictive markers that affect clinical decision making, current and emerging treatment strategies. It will also include case-based lectures by expert faculty who will focus on the practical application of knowledge to the complex-care scenarios encountered in contemporary practice settings.
For more information and to register please visit: http://www.gotoper.com/conferences/sogo/meetings/2nd-annual-school-of-gastrointestinal-oncology
About PER:
Since 1995, PER® has been the educational resource of choice for live and online activities focusing on oncology and hematology. PER® provides high-quality, evidence-based activities featuring leading national and international faculty with a focus on practice-changing advances and standards of care in treatment and disease management. Activities also include topics on emerging strategies currently under investigation, supportive care, diagnosis and staging, prevention, screening and early detection, and practice management. With the rapid advances occurring in the field of oncology, understanding how to use molecular data to diagnose and stage patients, selecting the most appropriate candidates for novel therapeutic agents, individualizing treatment based on tumor type, and referring patients to clinical trials will continue to ensure the highest level of patient care is provided. PER serves the oncology health care community, including physicians, fellows, advanced practice nurses, nurses, physician assistants, pharmacists and researchers. PER® is part of the Cranbury, N.J.-based Michael J. Hennessy Associates, Inc. family of businesses. Learn more at http://www.gotoper.com and http://www.mjhassoc.com