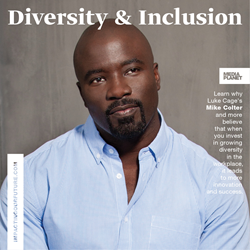 Ethically-diverse companies are 35% more likely to outperform their peers.
New York, NY (PRWEB) March 30, 2017
Mediaplanet's new Diversity & Inclusion campaign helps generate a much needed conversation on inclusion. In collaboration with leading organizations promoting workplace inclusiveness, this campaign will explore various US organizations' diversity efforts and initiatives. It will also educate and empower employers to expand diversity in the workforce and leverage and appreciate the experiences of mixed individuals for innovation and success.
Ethnically-diverse companies are 35% more likely to outperform their peers. In the same vein 55% of consumers prefer to do business with diverse companies than non-diverse organizations. While diversity seems to be a priority in the workplace there has been slow movement to reflect that need. Businesses focus on checking boxes and filling a quota while actor Mike Colter claims they need to, "Prioritize diverse qualifications and skills." Blacks represent only 1% of leadership in Fortune 500 companies and in U.S. corporations, as many as 76% of Hispanics feel as if they can't be themselves at work. Clearly more work needs to be done.
Award-winning filmmaker and advertising veteran, Deborah Riley Draper, whose documentary Olympic Pride, American Prejudice, led to 18 African American medalists' recognition at the White House 80 years later, also shares her perspective on diversity. She states, "We too often think diversity means replacing someone with someone else [yet] it actually means making room for someone else. It means adding a seat at the table – not replacing someone already sitting there."
The print component of Diversity & Inclusion is distributed within Thursday's edition of USA Today with a circulation of approximately 250,000 copies with an estimated readership of over 750,000. The digital component is distributed nationally through a vast social media strategy and across a network of top news sites and partner outlets. To explore the digital version of the campaign, click here.
This edition of Diversity & Inclusion was made possible with the support of actor and star of Luke Cage, Mike Colter, filmmaker Deborah Riley Draper, the Society for Diversity, Human Capital Institute, The Consortium, Hispanic Association on Corporate Responsibility, American Indian College Fund and more.
About Mediaplanet 
Mediaplanet is the leading independent publisher of content marketing campaigns covering a variety of topics and industries such as Health, Education, Lifestyle, Business and Technology, and Corporate Social Responsibility. We turn consumer interest into action by providing readers with motivational editorial, pairing it with relevant advertisers and distributing it within top newspapers and online platforms around the world. Please visit http://www.mediaplanet.com for more on who we are and what we do.
Press Contact:
Tyrell Charles
tyrell.charles(at)mediaplanet(dot)com
(646) 755-7967