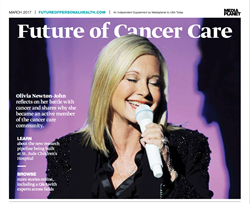 1,630 Americans die from cancer every day.
New York, NY (PRWEB) March 31, 2017
Today Mediaplanet announces the launch of this March's edition of "Future of Cancer Care." This campaign will showcase the innovative work being done in the world of cancer research and highlight what industry experts and patients see as the potential future of the industry.
1,630 Americans die from cancer every day. Cancer is the second most common cause of death in the U.S., exceeded only by heart disease, and accounts for nearly 1 of every 4 deaths. While death rates are declining each year due to innovations in treatment and prevention, continuous research is the only way to ensure the numbers keep dropping. However, while the death rate may be decreasing, the number of new cancer cases worldwide is expected to rise to 22 million within the next two decades.
The print component of "Future of Cancer Care" is distributed within this weekend's edition of USA Today in New York, Boston, Chicago, and Los Angeles markets, with a circulation of approximately 250,000 copies and an estimated readership of 750,000. The digital component is distributed nationally, through a vast social media strategy, and across a network of top news sites and partner outlets. To explore the digital version of the campaign, click here.
Breast cancer survivor Olivia Newton-John is the cover star for the print publication. In her interview in the interior, Newton-John discusses her cancer journey and how it lead to her active involvement in the cancer care community and the opening of the Olivia Newton-John Cancer Research Institute in her native Australia.
She emphasizes the importance of self-care during the cancer treatment process. "Support your spirit, and have people around you who are positive," says Newton-John. "Focus on doing things every day for yourself, whether it's taking a walk, going to a movie, being creative or having a good laugh." Her message aligns with the industry effort to improve the all-around patient experience, whether through bedside manner or advancements in cancer therapies with minimal side effects.
This campaign was made possible with the support of the American Society of Clinical Oncology, the Cancer Treatment Centers of America, The Personalized Medicine Coalition, Stand Up to Cancer, St. Jude Children's Research Hospital, Kite Pharma, National Pediatric Cancer Foundation, 3D Signatures, American College of Mohs Surgery, NewLink Genetics, Fred Hutchinson Cancer Research Institute, American Health Information Management Association, Association of Pediatric Hematology/Oncology Nurses, QIAGEN, and Prevent Cancer Foundation.
Summary for Search Engines: Mediaplanet with Olivia Newton-John and more, launches their Future of Cancer Care Campaign within USA TODAY and online.
About Mediaplanet
Mediaplanet is the leading independent publisher of content marketing campaigns covering a variety of topics and industries such as Health, Education, Lifestyle, Business and Technology, and Corporate Social Responsibility. We turn consumer interest into action by providing readers with motivational editorial, pairing it with relevant advertisers and distributing it within top newspapers and online platforms around the world. Please visit http://www.mediaplanet.com for more on who we are and what we do.
Press Contact:
Vanessa Rodriguez
vanessa.rodriguez@mediaplanet.com
(646) 979-2833