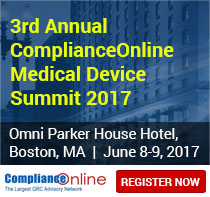 Palo Alto, CA, USA (PRWEB) March 29, 2017
ComplianceOnline, the leading governance, risk and compliance advisory network with over 1500 experts in various regulatory subjects has announced its 3rd Annual Medical Device Summit 2017 venue and speaker lineup. The Summit will take place on June 8 and 9, 2017 at the Omni Parker House Hotel, in Boston, MA.
The Omni Parker House Hotel, which is located at 60 School Street, Boston, MA will be a comfortable yet invigorating backdrop for an exciting mix of discussions, talks and breakout sessions. Boston is a city rich with history from the Boston cream pie to the Boston tea party to the midnight ride of Paul Revere. And Omni Parker House puts you close to the city's best-loved locales.
The two day event will feature 4 Keynotes, 13 impactful track sessions, 4 stimulating panel discussions and over 300 minutes of networking. This annual summit brings together current and former FDA office bearers, FBI officials, industry and regulatory specialists from around the world to address key issues in compliance, quality and innovation.
Stephen Allan Weitzman, Editor in Chief at FDA Information Repository – IRAI, will be joining as one of the key speakers at this year's summit. Stephen will kick off the day one with a keynote entitled: Adequate Directions for Use" in the Age of AI and Watson.
Casper E Uldriks, Former Associate Center Director at FDA's CDRH, Rita Hoffman, RAC, Managing Former Branch Chief, Recalls, CDRH at FDA, David Nettelton, Industry Leader, Author, and Teacher for 21 CFR Part 11, and Steven Grossman, Public Policy & FDA Regulatory Consultant will share Industry trends, and best practices for off-label promotion, post-market compliance, FDA compliance for SaaS/Cloud Environments and medical devices under Trump Administration.
Register for early bird tickets to one of the largest gatherings of medical device industry experts this year.
The speaker line-up for this year's summit include:

Stephen Allan Weitzman, Editor in Chief at FDA Information Repository – IRAI
Casper E Uldriks, Former Associate Center Director of FDA's CDRH
Rita Hoffman, RAC, Managing Partner, Regs & Recall Strategies, Former Branch Chief, Recalls, CDRH at FDA
Steven Grossman, Public Policy & FDA Regulatory Consultant at HPS Group
Pat Baird, Regulatory Head of Global Software Standards at Philips
Nick Sikorski, CISSP, Senior Consultant at Deloitte Advisory
Stan Mastrangelo, Technical Committee Member of working group on ISO 31000, ISO 14971, and ICH Q9 Standards, Professor, Center for Applied Health Sciences at Virginia Tech University
Rohit Bedi, Senior Vice President & Executive Leadership at MetricStream
James Edward Ledlum, Jr., Director Corporate Supplier Quality at Hologic, Inc
Peter Pitts, Chief Regulatory Officer at Adherent Health, LLC.
Virginia A. Lang, PhD., President & Chief Scientist at HirLan, Inc
Fletcher Wilson, CEO at InterVene, Inc.
Roni Cohen, Director of the Microbiology & Chemistry Division at HYLabs
Keith Morel, Ph.D., VP, Regulatory Compliance at Qserve Group US Inc.
Scot Philips, President at Starfish Medicals
Daniel L. Aisen, Quality Assurance, Regulatory Compliance, Proven Leadership
Darin Oppenheimer, Director regulatory, CMC, & Combination Products at Merck
Michael Weickert, Strategic & Entrepreneurial Executive, Trail-blazing Leadership in Biotech, Medical Device & Pharmaceutical Business
Daphne Walmer, Thought Leader/Expert/Consultant in Medical Device Labeling and Technical Communications
In addition to illuminating keynotes, the event will feature panel discussions, focused workshops, and exhibitor's stalls.
"This event was very focused on FDA regulatory training, standards and guidance. This was the main reason that I attended and the event delivered all with high quality", says Research and Development Program Manager IV, Abbott-a Summit past attendee.
"The summit was a great success in my opinion, very knowledgeable speakers and interesting topics. I extended my network of contacts that would be beneficial for our company. Thank you for giving this great opportunity and hoping to attend another one next year", Quality Assurance Manager, BCSI SAFE Sens, added another attendee.
The Device Summit 2017 has been made possible with the support of its event partners, including MetricStream - Platinum Sponsor, Journal of Medical Device Regulation, Technology Networks, Pharma Voice, Industry ARC and MM&M – Media Partners and Toxikon as Event Exhibitor.
Dates: Thursday, June 8, 2017 (8.00 AM- 4.25 PM) and Friday, June 9, 2017 (8.00 AM- 4.15 PM)
Location: Boston, MA
Venue: Omni Parker House Hotel, 60 School Street, Boston, MA, 02108, USA
Registration Cost: $1,699.00 per registration
Early bird discounts: For discounts on early registrations, please click here.
Register by phone: Please call our customer service specialists at +1-888-717-2436 or email to customercare(at)complianceonline(dot)com
About ComplianceOnline
ComplianceOnline is a leading provider of regulatory compliance trainings for companies and professionals in regulated industries. ComplianceOnline has successfully trained over 55,000 professionals from 15,000 companies to comply with the requirements of regulatory agencies. ComplianceOnline is headquartered in Palo Alto, California and can be reached at http://www.complianceonline.com. ComplianceOnline is a MetricStream portal. MetricStream (http://www.metricstream.com) is a market leader in Enterprise-wide Governance, Risk, Compliance (GRC) and Quality Management Solutions for global corporations.
For more information please contact:
A Reuben Bernard
Associate Director - ComplianceOnline
2600 E Bayshore Rd
Palo Alto CA USA 94303
Phone - +1-650-238-9656 | +1-888-717-2436
Fax - 650-963-2556
Mail: reuben(at)complianceonline.com
Website: http://www.complianceonline.com