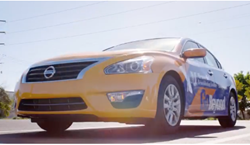 "Our role is really to serve the community, help people be safe when they're behind the wheel and to help families know when it's time for a person to stop driving," - Julie Delgado, Occupational Therapist
Hollywood, Fl (PRWEB) March 29, 2017
Reflexes, agility, eyesight and hearing all can decline as a result of an injury, a health setback, a progressive condition or age, making it difficult for someone to get in and out of a car and to drive safely. Yet living in an area where public transportation can be challenging, it can translate to a major loss of independence.
Memorial Regional Hospital South's Rehabilitation Institute in Hollywood has instituted a new program that helps adults of all ages to determine if they are ready to return to driving. Under the Memorial Rehabilitation Institute Driving Program, therapists assess a person's abilities and provide recommendations and assistance if needed whether he or she has been affected by any number of medical issues.
For Julie Delgado, an occupational therapist for 22 years with Memorial Healthcare System, it is about getting people back on the road, both figuratively and literally. She recently added driving rehabilitation specialist to her impressive list of credentials. Julie and her colleague Danielle Barber, also an occupational therapist, have collaborated in developing a new program at Memorial Rehabilitation Institute that helps adults of all ages to determine if they are ready to return to driving.
For Julie, the driving program is a natural progression to her career as an occupational therapist. She assesses their ability to care for themselves. She also determines whether it's time for a patient to go home or re-transfer to another care facility.
"I treat a variety of patients including the elderly after strokes, after traumas, heart attacks… all different types of diagnostic criteria," says Julie. "My neuro population is definitely one of my passions. "I love being the first person to show them that their arm can move and they will be able to do things they never thought they'd be able to do again."
In 2015, Julie completed her master's degree in gerontology. The specialization ties in nicely with the elderly population she serves.
In addition to her daily responsibilities, Julie continually shares innovations relating to stroke rehabilitation, cognitive assessments and driving with the interdisciplinary team.
Her latest venture, though, is acting as a driving rehab specialist.
"Through the use of evidenced-based testing in addition to our typical assessments of balance, strength and coordination, we can determine if a person is ready to get behind the wheel," Julie explains. "If they do well enough with us in the clinic, we take them in a car and bring them to a closed parking lot. If they do well with that, we drive in the community in progressively more difficult areas. And, yes, I have a brake on my side."
One aspect of her role is teaching people with amputations to operate a vehicle using hand controls. She also suggests individualized adjustments to make the driving experience safer and more comfortable.
"Our role is really to serve the community, help people be safe when they're behind the wheel and to help families know when it's time for a person to stop driving," she says.
The assessment can be scheduled once a prescription referral from a physician is obtained. As long as there is a valid driver's license, the clinical assessment can begin. It starts with a phone call to Memorial Rehabilitation Institute Outpatient Center at 954-265-5453. A follow up call to review driving history will take place, followed by a clinical assessment. If recommended, there will be a behind-the-wheel assessment in a program vehicle, specially equipped for safety.