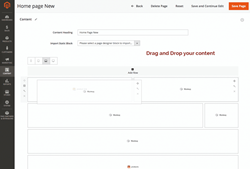 Content editing in Magento 2 as it should be - flexible and intuitive
Munich, Germany (PRWEB) March 30, 2017
Editing CMS content in Magento is not always comfortable, especially without any HTML and CSS knowledge or using a ton of different widgets which only work under certain conditions at certain positions making content look great. It was always more a mess than a smooth and satisfying work. But this comes to an end now: The free Page Designer extension for Magento 2 makes editor's life easy. Simply drag and drop the content wherever needed. A layout grid helps postioning the content fast and without any development skills. The responsive implementation works perfect for smartphones, tablets, laptops and desktop computers. No more worries about that - the extension does it for you!
Features:

Layout grid for easy content handling
Drag and drop functionality for content blocks
Integrates Magento standard content types: widgets, cms blocks, banners, product lists etc.
Define different page layouts for individual view ports and stunning views
Fully responsive to any device
Create awesome layout without HTML or CSS
Intuitive and easy usage
The Page Designer extension is developed by the Magento 2 Certified Partner TechDivision - one of the leading Magento Enterprise Partners in Germany.
Drag and drop content blocks in CMS pages or CMS blocks. Move them around, add further blocks, edit or delete them.
Click into a content block in order to edit its content. A modal window pops up with a editing mode and access to all of the existing widgets or content blocks. Additionally a WYSIWYG editor helps to fill in text, bulletpoints, pictures and other types of media.
Choose the viewport for the content and adjust the layout grid for it. The Page Designer extension ensures the responsive display of the content. Professional content editing with Magento was never that easy before!
Give it a try!
There is a demo instance with the Page Designer extension for testing purpose available:
Frontend: https://demo-pagedesigner.magenerds.com/
Backend: https://demo-pagedesigner.magenerds.com/admin
Documentation: http://doc.magenerds.com/page-designer/
The Page Designer extension is completely free and open source and TechDivision appreciate any participation at Github. For any ideas or enhancements, feel free to open issues or pull requests. Feedback and support is always highly appreciated!