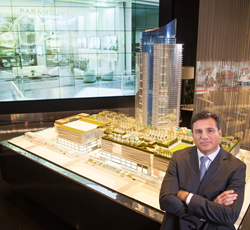 "Abolishing or extensive alterations to EB-5 will have dire economic consequences on new job opportunities and the growth of America's urban core."
WASHINGTON-MIAMI (PRWEB) March 29, 2017
Within 30 days, tens of thousands of American jobs and many of the country's largest real estate projects, including those in Miami, will be in serious jeopardy if Congress votes to eliminate or drastically change the controversial EB-5 Visa Program that grants U.S. residency to immigrants investing $500,000 in domestic business ventures, according to developers, such as South Florida's Daniel Kodsi. He is one of the nation's most-successful CEOs to harness the investment power of EB-5, which has helped build condos, hotels, office towers and other enterprises across America. EB-5 is the so-called Green Card in Exchange for Foreign Investment Program that expires on April 28, 2017.
(http://www.ParamountMiami.com)
EB-5 Opponents
According to Senate and House Judiciary Committees' official records, several U.S. Senators and U.S. Representatives on both sides of the aisle seek to eliminate EB-5 in the wake of arrests for fraud and incidents of mismanagement; for favoring wealthy visa applicants over less fortunate immigrants who must enter a lottery to be chosen; and for streamlining the immigration process, which is causing concerns amongst Department of Homeland Security officials.
DHS proposes raising the minimum investment from $500,000 to $1.35 million as a security measure and to bring oversight more completely under the purview of the federal government.
Raising the minimum investment has nothing to do with homeland security issues, according to Kodsi.
EB-5 Proponents
"Abolition or extensive alterations to EB-5 will have dire economic consequences," warns Kodsi, one of America's preeminent master developers and CEO of Paramount Miami Worldcenter.
It is the 60-story, 700-foot tall, $500-million soaring signature skyscraper of Miami Worldcenter -- America's second-largest urban development.
Paramount's buyer pool consists of people from more than 40 countries, of which 10 percent are Chinese EB-5 investors.
Currently, the Chinese are the largest group of EB-5 investors, according to the United States Citizenship and Immigration Services. (https://www.uscis.gov/working-united-states/permanent-workers/employment-based-immigration-fifth-preference-eb-5/immigrant-investor-regional-centers)
Miami Worldcenter is being built in an area of the city with some of the nation's highest unemployment rates.
The now under-construction project is transforming what was a 27 acre, 1.1 million square foot, six city block-long wasteland of decaying warehouses into what many are calling, "America's City of the Future."
Miami Worldcenter is the city's new residential, retail, tourism, transportation and entertainment complex that is expected to employ15,000 new construction workers, create thousands of post-construction jobs, generate billions of dollars in revenues and taxes and help modernize Miami's infrastructure.
The development consists of 11 projects in all, some of which will be funded by EB-5 and other sources.
Miami Prime Example of Positive EB-5 Outcomes
EB-5 is aimed at creating jobs and revenues in rural and inner city areas with high unemployment rates. According to critics, only three percent of EB-5 money is used for rural developments and the rest is being used to invest in already established upscale urban areas. (https://www.bloomberg.com/news/articles/2017-03-26/rich-chinese-race-to-fund-kushner-tower-other-high-end-projects)
However, in Miami the funds are being used for exactly what they were intended for – to build businesses and create jobs in areas of urban plight.
In a public-private sector agreement between the Miami-Dade County Commission and the Miami Worldcenter developers, 25 percent of the estimated 15,000 new construction jobs will go to unskilled American citizen and U.S. resident documented applicants living in surrounding inner city areas that have double-digit unemployment rates, according to Coastal-Tishman construction company executives. These workers will receive on-the-job training and paid $12.83 per hour, opposed to Florida's $8.03 minimum wage.
Made-in-the-USA
According to Coastal-Tishman, all of the steel, concrete and many other building supplies are all Made-in-the-USA.
Homeland Security Proposed Changes
"The DHS proposal to increase the minimum investment from $500,000 to $1.35 million dollars will only narrow the field of prospective investors and have no effect on strengthening homeland security but will have a profound negative effect on financing the modernization of America's urban core," argues Kodsi who agrees the EB-5 program needs reform.
Developer Agrees Change Needed
"While many of us encourage modifications to the EB-5 program that will craft a watchdog system for fraud and waste and strengthen homeland security gates, we also believe the program should be nurtured because it is a valuable mechanism that brings U.S. dollars spent abroad back to America," emphasizes Kodsi. "It creates American jobs and helps build American cities."
Institutional Funding Difficult
Since many U.S. businesses and developers are unable to secure full institutional funding, EB-5 has become a critical source of investment, according to its proponents.
The half-billion-dollar Paramount Miami Worldcenter has successfully secured more than $285 million in construction loans in March 2017. It has also secured initial, seven-figure loans, more than a year ago, plus has "inked" deals for tens of millions of dollars in EB-5 other foreign and domestic buyer investments.
Chinese Investors
According to UCIS, approximately 10,000 EB-5 immigration applications are currently pending. Of those, 80 percent are Chinese. (https://therealdeal.com/2017/03/27/chinese-nationals-scrambling-to-get-eb-5-visas-amid-fears-investment-minimums-will-rise/)
Kodsi has led several delegations to a half-dozen Chinese cities in the past 18 months. "I have met with these people – people who are already productive and successful." He adds, "They seek to contribute to the American way of life and to live the American dream. If EB-5 is eliminated they may never have that chance."
Chinese investment in U.S. real estate now accounts for eight percent of all foreign buyers, according to Deloitte Real Estate Consultancy. Canadians are the largest group of foreign investors in the U.S.
Miami's Flow of Foreign Capital
The flow of foreign investment fueling Miami's continuing surge in skyscraper construction is pouring in from several Asian, European and South American countries.
Kodsi explains, "We are experiencing incredible interest from the newly emerging wealth classes of China, India, Russia and Turkey." He adds, "These countries' currencies are plunging against the dollar amidst political and economic unrest. Foreign investors gravitate to downtown Miami real estate investment because they are amongst the world's most-stable and profitable."
Furthermore, Kodsi explains, "The world looks at the U.S. as a safe haven for capital and downtown Miami has really hit the radar – reason being, Miami values will continue increasing."
Miami-Dade Mayor Carlos Gimenez says, "Downtown Miami is one of the wisest investments in the world." He adds, "People who want to be a part of this phenomenon should get in on the ground floor now."
About EB-5
Created in 1990, EB-5 has grown substantially in recent years generating billions of dollars in investments.
The United States Citizens and Immigration Services' EB-5 Visa Program, stipulates foreign investors, their spouses and unmarried children, under 21, may qualify for permanent residency with an investment of $500,000 in U.S. real estate developments and other enterprises located in high-unemployment areas. The funds must directly result in hiring (or preserving) 10 or more Americans for full time jobs.
While many congressional leaders appear to support extension of EB-5 with some reforms, opponents criticize the program for being an avenue for the wealthy to pay-for-their-way into the U.S. opposed to less-fortunate foreigners who must wait for their number to come-up in a lottery that permits 50,000 immigrants annually.
During the past two-years, there was an estimated investment of nearly $5.8 billion by more than 11,000 immigrant investors, according to a U.S. Department of Commerce January 2017 report.
These investments are expected to create about 174,000 American jobs, according to the report.
According to the EB-5 Coalition, an industry group in Washington, $15 billion of EB-5 investments have been raised since 2005.
Promenade, Convention Center, Intermodal Hub
At 27-acres, Miami Worldcenter is second in size only to New York's Hudson Yards development at 28-acres. In comparison, Rockefeller Center, built in 1931, is 22-acres.
Miami Worldcenter will intertwine Paramount with six other downtown Miami residential and office buildings, an 1,700 room Marriott Marquis and Convention Center and several other hotels.
Running through the center of the development will be a six block-long retail and restaurant promenade. It will be lined by an unprecedented collection of two and three story "High Street" style shops and stores and a fusion of outdoor restaurants.
Miami Worldcenter will also be the hub for the downtown MetroMover and Metrorail elevated transit systems. Adjacent, will be the main terminal of the-under-construction All Aboard Florida / Brightline intrastate high-speed railroad.
Urban Amenities Deck, Skydeck, Penthouses, Prices & Chinese Feng Shui Design
Paramount Miami Worldcenter features one of the world's largest elevated private urban amenities deck with walking paths, gardens, bungalows, resort-style pools, tennis courts and, even, a regulation soccer field overlooking the promenade.
Inside are a regulation size half-basketball court, boxing ring, conservatory and several lounges.
The 60th floor Rooftop Skydeck and Lounge is sculpted in the shape of the stern of a super yacht. It is a plunge pool oasis overlooking Miami. The skydeck also features a rooftop astronomy observatory with a sweeping 360-degree view.
Paramount Miami Worldcenter features 513 residences of which 24 are penthouses. Prices range from $700,000 to $4 million. Included are private elevators, outdoor living room-style terraces and 10-foot ceilings.
About 60 percent of Paramount's units have been sold. Vertical construction is now underway.
"To attract Chinese investors, we have added elements of Feng Shui design that harmonizes people with the surrounding environment," says Kodsi. "We have included earth, wood, metal, water and fire elements in the development and we are building a rooftop Tai Chi deck."
About Daniel Kodsi
Kodsi is a 26-year seasoned master developer. He has built more than two dozen mixed-use and luxury high rise projects in Florida. His Paramount brand also includes Paramount Bay Miami and Paramount Fort Lauderdale Beach.
He is a graduate of the University of Miami where he earned his BBA in Finance and Architecture.
Miami Worldcenter is Expected to Be Completed in late 2019.
Editorial & Interview Contact
Bryan Glazer
World Satellite Television News & Media Relations
212-673-4400 / 561-374-1365
Bryan(at)Televisionews.com
MEDIA ASSETS
Renderings & Photos
https://www.dropbox.com/sh/mp3w2e2kergvcwz/AADoYg78OnCMFkTk4LtnAHrza?dl=0
NEWS MAGAZINE LONG FORM PACKAGE
https://vimeo.com/157365291
PILE DRIVER PRESENTATION
https://vimeo.com/157080023
PROJECT ELECTRONIC PRESS KIT #1: BITES
https://vimeo.com/157074186
PROJECT ELECTRONIC PRESS KIT #2: B-ROLL
https://vimeo.com/156996666
WALK-N-TALK
https://vimeo.com/157065398
NewsCoverage
https://vimeo.com/169264078
Animation
https://www.dropbox.com/s/msb6tdw6x1tdftz/Miami%20Worldcenter%20%26%20Mall%20%20Info-Movie%20-%20Bryan%20Glazer%20-%20World%20Satellite%20Television%20News-HD.mp4?dl=0
Groundbreaking Event EPK
https://vimeo.com/157680231
Animation, B-Roll & BITES: https://vimeo.com/157680231
AP PHOTOS: http://www.apimages.com/Search?query=miami+worldcenter&ss=10&st=kw&entitysearch=&toItem=18&orderBy=Newest
GETTY IMAGES: http://mm.gettyimages.com/mm/nicePath/gyipa_public?nav=pr384239697