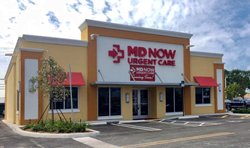 Our new Bird Road location will provide greater access and convenience for patients, while keeping healthcare costs nearly six times lower than most ERs.
Miami, FL (PRWEB) March 31, 2017
On Saturday, March 25, MD Now opened its latest South Florida urgent care center in the Bird Road area of Miami. With additional openings planned throughout 2017, MD Now further cements its claim as the area's leading and fastest-growing urgent care provider.
The new location at 4001 SW 72nd Avenue, just east of Palmetto Expressway (826) and across from Barnes Park, marks the 26th for MD Now. It will serve patients throughout the surrounding neighborhoods. In addition to conventional urgent care for illnesses and injuries, the new clinic offers state-of-the-art healthcare services, including EKGs, digital X-rays, lab tests, drug screenings, and occupational medicine.
Like all MD Now Urgent Care centers, the new Bird Road location will provide local residents with fast, convenient access to these advanced medical services at costs that are typically much lower than those of a hospital-affiliated ER or urgent care center. MD Now has become known for its fast, efficient, and affordable treatment of both adults and children with no appointment necessary.
In most cases, the urgent care provider also offers a much shorter wait time than the typical hospital ER. Wait times should show even greater improvement throughout 2017, as new MD Now locations provide greater patient access.
"A hospital ER can't compete with the care of an MD Now Urgent Care Center on either affordability or convenience," explained Peter Lamelas, M.D., CEO of MD Now Urgent Care. "The higher overhead and staffing costs of such operations must be passed along to those receiving care. Our streamlined urgent care model provides greater savings and shorter wait times, as well as a lower risk to patients."
Michael Holton, President and COO of MD Now Urgent Care, agreed, "Our goal is to make convenient, high-quality care affordable. Our new Bird Road location will provide greater access and convenience for patients, while keeping healthcare costs nearly six times lower than most ERs. Just as important, we will maintain the same high level of care, even as we expand for greater patient convenience."
All MD Now Urgent Care Centers strive to treat patients within 60 minutes or less. The Bird Road location will be no exception, providing immediate care for colds, allergic reactions, cuts, burns, broken bones, dislocations, sprains, strains, and many other common, urgent medical concerns. All treatment is provided on site at one convenient location.
About MD Now Urgent Care Centers
MD Now® Urgent Care Walk-In Medical Centers is the leading provider of fast and affordable urgent care to adults and children in Palm Beach, Broward, and Miami-Dade Counties. Our state-of-the-art, walk-in medical centers are open seven days a week from 8 a.m. to 8 p.m. to deliver an affordable and convenient alternative to long emergency room wait times and the limited hours of family physicians. No appointment is necessary and major insurance plans are accepted. In addition to providing a comprehensive range of urgent care services to treat a variety of illnesses and injuries, our multiple locations offer digital x-rays, EKG, ultrasounds, lab testing, physicals, immunizations, vaccines, physical therapy, occupational medicine, travel medicine and selected primary care services. Find the medical care you need with the convenience you want at MD Now. Call: 888-MDNow-911, online: http://www.MDNow.com.