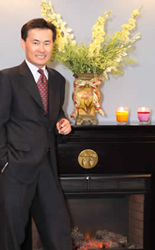 Anaheim, CA (PRWEB) March 29, 2017
People who need treatment for gum disease in Anaheim, CA, can now protect their health by visiting Dr. Jin Kim, who is currently accepting new patients for this procedure with or without referrals. At his two office locations in Diamond Bar and Garden Grove, CA, Dr. Kim offers multiple procedures, including laser dentistry, to treat periodontal disease safely and effectively. Besides making these treatments more widely available, Dr. Kim is safeguarding his patients' health by helping them understand the often-overlooked warning signs and health risks of gum disease.
Research shows that gum disease can cause both local and systemic health problems. This disease, which is characterized by inflammation and recession of the gums, can break down the tissues that anchor the teeth, resulting in tooth mobility or tooth loss. The bacteria responsible for gum disease can also cause inflammation throughout the body by entering the bloodstream. Studies have linked gum disease to a greater risk of illnesses such as heart disease, stroke and pancreatic cancer. The Centers for Disease Control and Prevention states that almost half of American adults live with gum disease. Consequently, Dr. Kim is working to raise awareness of early symptoms and make treatment more easily accessible to victims of gum disease in Anaheim, CA.
As a respected periodontist who keeps current with new developments in his field, Dr. Kim offers multiple treatments for gum disease, including minimally invasive laser dentistry. With the FDA-cleared LANAP® protocol, Dr. Kim can use a dental laser to remove bacteria and diseased gum tissue precisely while preserving healthy gum tissue. This technique minimizes the risk of bleeding and infection by sterilizing the gum pockets and creating a protective blood clot. Patients can also typically expect minimal pain and a shorter healing period.
To learn more about the LANAP® protocol and the benefits of laser dentistry, patients should refer to Dr. Kim's website, http://www.drjinkim.com. People who notice symptoms of gum disease near Anaheim, CA, are encouraged to schedule consultations regarding their treatment options by visiting the website or calling Dr. Kim's office at 714-898-8757.
About the Doctor
Dr. Jin Y. Kim is a periodontist dedicated to providing personalized dental care in Diamond Bar and Garden Grove, CA. Dr. Kim attended the University of Sydney Faculty of Dentistry before furthering his education with an advanced degree in pathology from the Medical School of the same University. Dr. Kim completed a periodontics and implant surgery residency at UCLA School of Dentistry. A uniquely dual board-certified specialist, Dr. Kim was board-certified by the American Board of Periodontology and the American Board of Oral Implantology/Implant Dentistry. The International Congress of Oral Implantologists and the American Academy of Implant Dentistry both gave him the title of Fellow. He was also inducted to be a Fellow of the prestigious American College of Dentists. Dr. Kim enjoys lecturing at UCLA School of Dentistry as well as national and international academic and clinical associations and universities including the International Association of Dental Research, American Academy of Periodontology and Academy of Osseointegration. To learn more about Dr. Jin Kim and the services he offers, visit his website at http://www.drjinkim.com or call (909) 860-9222 for the Diamond Bar location or (714) 898-8757 for the West Garden Grove location to schedule an appointment.