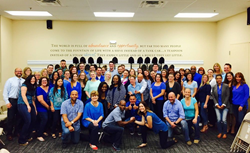 "While none of them do it for accolades, it's great to see their hard work recognized, and I count myself privileged to be a part of this team." - Howard Gerber, Sunbelt Staffing Senior Vice President
Oldsmar, FL (PRWEB) March 30, 2017
Sunbelt Staffing has been named as one of "25 Amazing Companies Hiring in All 50 States" in a recent study by global career site Glassdoor. The study highlighted companies with current job openings in each of the 50 states and created rankings based on average Glassdoor ratings as well as employee reviews.
Sunbelt employs more than 100 individuals in its Oldsmar, FL headquarters. Its National Healthcare Consultants recruit healthcare professionals in school and medical settings across the U.S. for roles such as registered nurses, school psychologists, and speech-language pathologists.
"Sunbelt Staffing is such a supportive company. My experience has been nothing but positive. The people are wonderful, management cares, they invest in their employees and there are people all around that are willing to help during the starting process," said a Sunbelt National Healthcare Consultant in a review featured by Glassdoor. Sunbelt Staffing earned a 4.6 out of 5.0 company rating from anonymous ratings submitted by employees. Glassdoor's average company rating is a 3.3.
"Our healthcare workers are among the best in the industry, and our headquarters is staffed by an amazing group of people that come to work every day with a singular focus - making life better for those that make lives better," said Howard Gerber, Sunbelt Staffing Senior Vice President. "While none of them do it for accolades, it's great to see their hard work recognized, and I count myself privileged to be a part of this team."
Glassdoor is a global employment marketplace where employees and former employees anonymously review companies and their management. It produces reports, studies, and rankings on topics such as work-life balance, salaries, and office culture based on data it generates from user reviews and company profiles.
Sunbelt Staffing is a healthcare staffing company that has been connecting healthcare professionals with facilities nationwide for more than 25 years. It offers travel, per diem, and permanent placements in nursing, therapy, advanced practice, and schools.
Read Glassdoor's "25 Amazing Companies Hiring in All 50 States" here.
To learn more about Sunbelt Staffing, please visit sunbeltstaffing.com.
To see Sunbelt Staffing's current job openings, please visit sunbeltstaffing.com/jobs