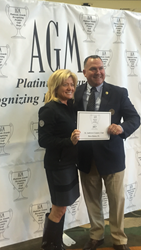 The new Golf Shop now attracts both golfers and non-golfers - it's not your grandfather's golf shop anymore!
Boca Raton, FL (PRWEB) March 29, 2017
St. Andrews Country Club has been named Top 100 Golf Shops in America by the Association of Golf Merchandisers. The golf shop at St. Andrews CC recently underwent a complete renovation, creating an ultramodern retail space reflecting the design of the clubhouse completely transforming the space which helped increase revenue 5% in its first year.
The members and professional staff worked closely with Bauer International Interior and Designs to create a look like no other. Other unique features that are showcased in the golf shop include, merchandise displays with back lighting resembling grass-like illumination, textured wall paper that emulates a golf ball, and unique, off-set tile carpet elevates the ambiance to a higher level. It's not your grandfather's golf shop anymore! The new golf shop opened November 2015 and Bauer showcased St. Andrews in their June 2016 PGA Magazine advertisement.
Renovation of the 1,950 square feet golf shop included innovative and efficient office spaces, additional storage for seasonal merchandizing displays and a counter for gift wrapping. A new demo area was made to be easily accessible by retail staff, improving the member experience by having demo equipment only steps away. Also added, was a dedicated space specific to shoes, including storage for 244 pairs in inventory. The unit displays 30 different shoes, an area for merchandizing accessories and a side panel to showcase socks. Brand new built in golf club displays and two relocated dressing rooms.
"Our redesigned golf shop has drastically enhanced not only the look of the shop but has also improved the level of service we are able to provide our members here at St. Andrews," says Paul Clivio, Director of Golf. "Along with our members input, Bauer International Design and Interiors, and our Retail Manager & Buyer, Victoria Matthews did a wonderful job redesigning the Golf Shop to attract golfers and non-golfers into the shop."
"We are constantly seeking to raise the bar in all aspects of the services and amenities we offer," says Craig D. Martin C.O.O. & General Manager of St. Andrews Country Club. "Our new golf shop helps solidify our brand's promise to our membership by providing them with superior amenities to enhance their lives and experiences they have each day at their club," Martin concluded.
# # #
About St. Andrews Country Club
St. Andrews Country Club of Boca Raton, resident-only Distinguished Club of the World ranked in the Top Ten of America's Healthiest Club's is internationally recognized for magnificent estate residences and recently approved $25 million in renovations. Phases II and III of the Club Improvement Plan include the construction of a brand new Spa beginning Spring 2017 and a complete renovation of the Fitness/Tennis building beginning in Spring 2018. The Club features superior amenities, two 18-hole championship golf courses, including an Arnold Palmer Signature Design® and the brand new Fazio II. The club offers a comprehensive Golf Performance Center with indoor hitting bay, private practice area, V1 Digital Coaching System and FlightScope Launch Monitor® technologies, and a Callaway Golf® branded club fitting area. The Club features a full service spa and fitness center and a 125,000 square foot completely remodeled Clubhouse with five dining venues. A pristine Recreation & Aquatic Center features three pools, poolside dining, Splash Club and state-of-the-art playground equipment and air-conditioned game room. St. Andrews has played host to numerous PGA golf exhibitions led by touring pros such as Phil Mickelson, Arnold Palmer, John Daly and Rocco Mediate, and is the home course to LPGA Touring Professional and resident Morgan Pressel. Please visit http://www.standrewscc.com or follow us on Facebook, Twitter, LinkedIn, YouTube, Pinterest and Instagram.