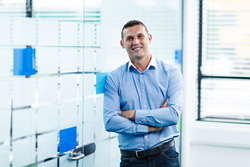 (PRWEB UK) 3 April 2017
From 1st April, Mike will step into his new role after joining the company as Financial Director in August 2016. CEO and Founder Nick Marshall said, "Mike has shown outstanding commercial and leadership skills alongside his financial expertise inside his first year with Giacom and has demonstrated that he is well equipped for the new role. We are privileged to have such a capable, strong and talented new leader."
With more than ten years of senior leadership experience in the IT and Telecoms sector, Mike's dynamic approach means Giacom continues to exceed its targets. As he transitions into the role, Mike's business acumen will be vital to ensuring Giacom retains a strong position as the leading platform for IT professionals to buy cloud services for their clients.
"Nick's vision and leadership has created a cloud services business which continually strives to deliver simple, cost effective solutions. This has enabled Giacom to gain Microsoft 2-Tier CSP status and deliver these products, along with others, through the MessageStream Cloud Marketplace," Mike comments. "As I take up the role of Managing Director, I am excited about the future for Giacom and confident that we can continue our success and deliver many more services to help our valued customers."
Giacom licences cloud services under its reseller-only brand MessageStream, which is home to more than 4,000 partners via the online Cloud Marketplace. Revenues continue to dramatically increase year-on-year, with a 74% revenue growth totalling £6.6m as of July 2016.
Company revenues are expected to double in July 2017, while EBITDA has a projected growth of almost 60%, and Giacom is targeting £30m revenues by 2020.