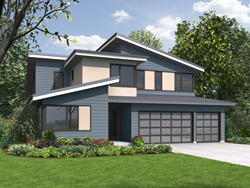 Today's home buyers want a home that adds to their income
Portland, OR (PRWEB) March 31, 2017
Alan Mascord Design Associates Inc., a top national provider of house blueprints and custom home design services, have extended their collection of more than 4,000 ready-made house plans with new designs created for today's home builders.
Trending features such as contemporary styling, generational design, duplexes and separate AirBnB apartments help home builders around the nation satisfy the needs of baby boomers and millennials alike.
"Today's home buyers want a home that adds to their income - actually providing revenue" says Eric Schnell, Mascord's Director of Design. Mascord have found that both young and mature home buyers are choosing to host AirBnB travelers to help with the costs of home ownership or supplement retirement. Guest suites, especially those with separate entrances and even detached units, have increased in popularity.
Beyond accommodating guest travelers, the future need to care for aging parents, returning college students - or even themselves - is leading many consumers to incorporate Generational Design principles into their homes too. Single level homes with wider hallways and open layouts have been popular universal design principles for aging in place - and with the addition of extended guest suites, multiple flexible spaces and some key room relationships - Generational homes really accommodate those looking to build a single home that will last a lifetime.
Featured designs include:
The Sweetwater - A 2800 SqFt contemporary home stacked with amenities and including some incredible flexible spaces which make the home adaptable to changing lifestyles and circumstances.
The compact Shaftsbury - A 1300 SqFt reversed living plan designed to take maximum advantage of scenic views with reduced foot print. The addition of flexible spaces on the lower floor make this an extremely popular design.
The Cascades - Amenity rich 1500 SqFt Duplex units designed with efficiency and value in mind. This contemporary duplex home design is perfect for city development and investment opportunities.
View all the latest designs: https://houseplans.co/house-plans/collections/new-plans-2017
Since 1983, Alan Mascord Design Associates, Inc. have provided house plans and custom home design services directly to homebuilders throughout the nation. Balancing the need for architectural excellence with practicality, award-winning home designer Alan Mascord has assembled a creative team with the talent to identify trends in American home styles and the skills to translate them into designs that are beautiful, livable, and easy to construct. Mascord's designs have gained national attention gracing the covers of magazines such as Builder, Better Homes & Gardens® and House Beautiful.
The Mascord Collection, viewable online at https://houseplans.co, features more than 800 published base designs in many styles and sizes.
Source: Alan Mascord Design Associates Inc