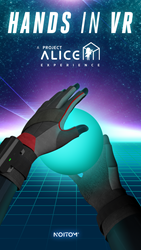 This last year we have really been focused on extending ourselves further into virtual reality because we understand the great need there is for this technology not just for entertainment but as a business solution as well.
San Jose, California (PRWEB) March 29, 2017
Not long after announcing their latest virtual reality-related product, the motion-tracking Hi5 VR Glove, Noitom makes its return to the world's premiere virtual reality gathering, the Silicon Valley Virtual Reality Conference & Expo taking place at the San Jose Convention Center from March 29-31.
At its core, Noitom is a motion capture technology company, dedicating much of its research to all aspects of motion capture and creating affordable and accessible tools for VFX, animation and gaming such as its popular Perception Neuron system. The company however, has continued to steadily advance into the virtual reality spectrum where it is now focused on making immersion into VR a smoother and even more dynamic experience.
As Noitom prepares to be a part of SVVR for the third year in a row, the industry professionals from around the world who will be in attendance have the opportunity to experience the company's latest virtual reality products, both of which promise to deliver better, more engaging ways to enjoy virtual reality.
For SVVR 2017, Noitom will once again showcase their multi-user mixed reality B2B platform Project Alice. They will also be presenting to a whole new audience, their consumer Hi5 VR Glove which made its unofficial debut earlier this year at CES in Las Vegas. Both Project Alice and Hi5 VR Glove are poised to generate excitement around the Noitom booth at SVVR where they will be offering daily live demos throughout the course of the convention.
"This last year we have really been focused on extending ourselves further into virtual reality because we understand the great need there is for this technology not just for entertainment but as a business solution as well," says Tristan Dai, CTO and Co-founder of Noitom. "There are just so many possibilities with VR. Gaming and entertainment are only the beginning. What we have discovered is that virtual reality can really help to expand and strengthen business goals by providing a tool that offers a complete simulation and virtual training solution that can be used in the automotive and theme park and real-estate industries as well as many others."
Dr. Dai, who is also the developer of Project Alice and Hi5 VR Glove will host a speaking session on the first day of the conference where he will discuss Noitom's year-long journey into VR as well as give some insight as to where the company is headed in the future.
Noitom's SVVR booth will actually be two separate spaces, each providing a set of live demo sessions that will go on throughout the day. The demo sessions fall into several categories including games, education and advertising.The demos will include a multi-player, multi-scene demo featuring the Hi5 VR Glove where players can immerse both hands into the VR environment while interacting with objects.
Media and attendees of SVVR can schedule a demo for the following experiences that will be available at the Noitom SVVR booth:

Four ghosts from different periods in time are trapped in a mysterious attic. Players use objects found inside to free themselves and their friends by solving various puzzles, A VR escape room

Hands-IN VR: A Hi5 Glove Experience by Noitom
For the first time, players can experience multi-player VR immersion using their own hands as the controllers. They will rediscover the true power of VR as they pick up objects, play games and finger-paint in a digital world of their own.

Project Ghost: Assault Squad by Project Ghost Studios
A sci-fi Mixed RealityVR shooter game in which the players assume the role of futuristic super-soldiers known as "Ghost." Players battle incoming waves of enemies with a virtual weapon which works as both a blade ad a bow and arrow.

All New Tiguan Experience by Noitom and Volkswagen
Participants can explore the latest model of the 2017 Volkswagen Tiguan Series. They will be able to interact with the vehicle including interacting with its features and taking it for a test drive.

EXA Episode 1: Dimension 12 by Dutajaya Media
In this game, new EXA recruits are about to undergo their first training and their commander, Rick, is responsible of guiding them through it. Halfway through, something disrupts EXA's systems and the new recruits must now find out what went wrong.
"Our mixed-reality, multi-user platform, Project Alice, was such a hit last year at SVVR that we decided to bring it back, only better this time," says Roch Nakajima, VP of International Marketing & Business Development for Noitom. "What we really want to show with products such as the Hi5 VR Glove and Project Alice is that there is a near infinite amount of possibilities for creating custom experiences that will fully engage, entertain and educate people both mentally and physically and opening the door to bringing any type of environment into any home or to any company headquarters."
SVVR will take place from March 29-31 at the San Jose convention Center. For hours and further information about SVVR and its events, please visit vrexpo.com. Noitom will be located at booth number 200. Dr. Tristan Dai will speak on Wednesday March 29 at 1:30 pm (PT).
For members of the media and SVVR attendees who would like to schedule one of Noitom's demo sessions, tickets are available free of charge at https://projectalicesvvr.yapsody.com.
To learn more about Noitom and Project Alice, please visit noitom.com. For more information about the Noitom Hi5 VR Glove, please visit hi5vrglove.com.
Founded in 2011, Noitom Ltd. works with a team of dedicated engineers who develop world-class motion capture technology for consumer and industrial markets through the integration of MEMS sensors, pattern recognition, human kinetics and wireless transmission. Noitom is an international leader in innovative technology for use in animation, film, medical applications, robotics and gaming. Noitom is headquartered in Beijing with affiliate offices in Shanghai and Shenzhen. The company also has two US offices located in Miami and Scottsdale. For further information about Noitom and its services, please visit, http://www.noitom.com. For general inquiries, please email, info(at)noitom.com.