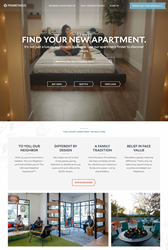 We gave future neighbors the perfect combination of inspiration and assistance to find their new home.
San Francisco, California (PRWEB) March 31, 2017
Cibo announced today the launch of Prometheus Real Estate Group's web site http://www.prometheusreg.com. The site showcases Prometheus' groundbreaking luxury apartments and communicates the company's unique brand experience.
As the leading developer of apartment communities on the West Coast, Prometheus has long pioneered a different standard of experience for those interested in apartment living. Every aspect of what Prometheus calls the Neighbor Experience has been carefully considered, from the design of the neighborhoods themselves, to the many services and amenities available to neighbors, to the smallest details of the place they call home.
Since the majority of Prometheus' current and future neighbors work in the high-tech industry, the company has always placed a great importance on its digital brand experience. The new Prometheus web site showcases the company's carefully designed and considered neighborhoods in the San Francisco Bay Area, Portland and Seattle while also demonstrating the many small details that make these properties and the people who staff them so unique.
"We worked hard to ensure that the brand personality came through in every element of the design," says Cibo Creative Director Tom Sieu. "There needed to be a sense of life and a sense of style in the layout and interactions without sacrificing our ability to both clearly tell the Prometheus story and help people find the apartment of their dreams."
Cibo conducted in-context research at several Prometheus neighborhoods, yielding pertinent insights into both the company's culture, and the needs of current and prospective neighbors. These insights drove a significant overhaul to the web site's user experience and visual design, focusing on better showcasing each neighborhood, clearer calls to action to make an appointment or lease online, and telling the story of what makes Prometheus so unique.
Cibo both designed and developed the fully responsive web site—implementing a custom CMS in conjunction with technology partner Code Refactory—and collaborating with Prometheus on the site's content. In addition to providing an ideal experience for exploring and ultimately renting a new apartment online, the site describes the history and culture of Prometheus in more depth than ever before, with an eye to attracting the kind of candidates that might fit into the organization.
"It's always a pleasure to work with a client who understands the value of a great experience," says Alder Yarrow, Cibo's Chief Experience Officer. "Together we were able to spend time making sure we gave future neighbors the perfect combination of inspiration and assistance required to find their new home."
About Cibo
Cibo (http://www.cibosf.com) is a brand experience agency that helps ambitious brands build innovative customer experiences that drive increased loyalty, advocacy, and sales. Founded in San Francisco in 2010, Cibo brings deep capabilities in traditional marketing and advertising together with cutting-edge expertise in digital experience design, emerging marketing technologies and cross-platform brand storytelling. Cibo's work propels some of the world's top brands, including Tesla, Salesforce, Volcom, Subaru, Twitter, Lenovo, Union Bank/MUFG, Gymboree and Disney.