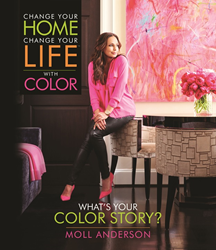 New York, New York (PRWEB) March 29, 2017
Krupp Kommunications is pleased to announce Change Your Home, Change Your Life™ with Color by inspirational lifestyle expert Moll Anderson, has landed at #10 on The New York Times bestseller Advice, How-To & Miscellaneous list on Sunday, March 26, 2017. In her fifth book, Anderson shares how readers can identify and learn how and why color drives and defines them, as color – whether in one's home, accessories, office, etc. can truly transform one's life.
Because feelings about color are so deeply and emotionally rooted, its powerful effect is often most evident in the home and one's style, as it impacts behaviors, emotions, and even well-being. Whether it's in one's relationships, mood, etc., one's environment and the colors they're surrounded with all play a role in one's productivity and success. Through personal experience, she discovered how her own interaction with color affected her, as well as friends and clients when decorating their homes, as a former interior designer.
"Through my previous work, I saw first-hand the difference color could make in people's lives – much more than just the physical space itself," says Anderson. "After learing more about the theory behind color and learning for myself how powerful color was in the memories I was holding back, it became the reason for why I truly changed my life. Now I am inspired to share what I have learned myself with others, so they can understand the true meaning of color around them— especially in their homes – to live better, healthier lives."
From #colorlessons to #popsofcolor to Insta-inspirations based on one's real-life inspirations, Anderson teaches readers how to discover what color means to them. From finding one's color cure, to why some color memories hold someone back, to unlocking one's color sense, she shares how embracing the right colors will help people renew, revamp, and revitalize their homes and lives to create their own life-changing color story.
"At K2 we focus on projects that help make a difference," says Heidi Krupp, founder and CEO of Krupp Kommunications. "Since color is something everyone interacts with on a daily basis, it has been great working with Moll Anderson to see how through small steps and changes, color can truly transform someone's life."
For more information, readers can visit http://www.mollanderson.com.
ABOUT MOLL ANDERSON
Moll Anderson is an accomplished author, television and radio host, inspirational former interior designer, life stylist, and advocate for women and children globally. Moll's career has been filled with many professional achievements, including winning an Emmy for her work as an entertainment reporter; being chosen as one of Donna Karan's Women Who Inspire (2011); and as a three-time recipient of the Gracie Awards, twice (2013, 2014) for Outstanding Host Lifestyle program for The Moll Anderson Show and (2015) for Outstanding On-Air Talent: Lifestyle/Health Program, as a contributor on The Doctors – Stage 29 Productions. The Gracies™ recognize outstanding programing created by women and about women, as well as individuals who make exemplary contributions to the industry.
Moll is a woman of many trades. Her lifestyle and interior design acumen have been enthusiastically embraced by readers of her four home and lifestyle books. She has been a regular contributor to The Doctors television show, and a guest co-host on FABLife, and she has appeared on numerous other television shows, including Access Hollywood Live, Good Day LA, The Talk, Good Morning America, The Today Show, and Dr. Phil. She has been featured in national publications such as InStyle and Cosmopolitan, USA Today, Huffington Post's Women in Business, as well as in regional publications.
Along with her professional work, Moll is a dedicated philanthropist, focusing her energy on many deserving causes. Moll is an advocate for survivors of abuse, and she commits her time and resources to improving and protecting the lives of women and children in her community and internationally through her work with such organizations as Habitat for Humanity, Boys and Girls Club and UNICEF. Moll shares UNICEF's belief that education is key to breaking the cycle of poverty. In 2010, The Moll Anderson Endowed Scholarship was established at the University of Tennessee. The scholarship allows single parents to pursue their educational careers while caring for their children. In 2016, Moll received the Spirit of Compassion Award at the UNICEF Snowflake Ball.
Moll splits her time between Dallas, Texas and Knoxville, Tennessee with her husband Charlie and their two Cavalier King Charles Spaniels, Winston and Harlow. Together she and her husband have four children. Change Your Home, Change Your Life With Color is dedicated to Moll's son Michael, his wife Aphrodite, and their first child Adrianna. Other books by Moll Anderson include Change Your Home, Change Your Life, The Seductive Home, Seductive Tables For Two, and What's Your Color Story?
About Krupp Kommunications, Inc.
First established in 1996, K2 Krupp Kommunications is an award-winning full service public relations and marketing agency located in the Chelsea district of New York City. With expertise in connecting brands and personalities with cultural trends and influencers, K2 has taken some of today's top talent, from start-ups to big brands, and has driven many into becoming household names. K2 works and collaborates with clients to develop highly strategic campaigns focusing on going beyond media relations to reaching a client's measurable business goals. K2's experienced group of passionate and professional team members are highly regarded by clients and national media. With its high energy, motivated team that goes above and beyond, K2 is big enough to have the resources to generate meaningful results, yet still small enough to have fun and demonstrate all the flexibility of a boutique. For more information, please visit http://www.kruppkommunications.com.