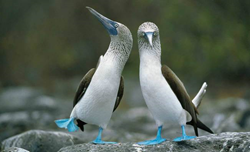 ""Flying in a small plane over the Galapagos Islands provides a birds-eye view of these volcanic formations," Allie Alimario, Myths and Mountains.
Incline Village, NV (PRWEB) March 30, 2017
Myths & Mountains Vice President and Galapagos specialist, Allie Almario, just returned from her 14th scouting trip to the Galapagos where she discovered three growing trends.
1. Leaving ships behind, many are choosing to spend time on land in new luxury lodging including the new Galapagos Safari Camp on Santa Cruz Island.
2. Secondly, six-seater prop planes offer "air taxi" service for island hoppers. Galapagos By Air gives a bird's-eye view of jaw-dropping volcanic islands and islets, as well as being a time-saver.
3. The third trend is evolving around the concept of "more time on less islands," allowing visitors to explore an island more in-depth. More travelers are embracing the idea that "less is more." By concentrating on a few islands and spending days on them rather than hours, visitors enjoy an in-depth, leisurely experience in the Galapagos. On longer stays, visitors stay overnight at a hotel on one of the four inhabited islands (Santa Cruz, San Cristobal, Isabela, and Floreana) and explore nearby islands on day trips. There will even be time for a half-day kayak trip!
As a leading tour operator, Myths and Mountains have been taking travelers to the Galapagos for more than 20 years. They stay ahead of trends and curate the most ideal itineraries possible while maintaining strict standards for sustainability. Long-time relationships with local providers and wildlife conservationists assure guests a personalized and immersive experience.
For more information on Myths and Mountains tours, please visit http://www.mythsandmountains.com. You can also read Myths and Mountains' blog and follow them on Facebook, Twitter, Google +, Instagram and other networks.
###
About Myths and Mountains
Veteran adventurer Dr. Antonia Neubauer founded Myths and Mountains in 1988 to foster intimate cross-cultural experiences and offer tours designed to take travelers to the very heart of the places they visit. The company's mission to provide handcrafted, experiential journeys has created a solid place for Myths and Mountains in the adventure travel industry. They were named Trusted Travel Experts on the 2017 Wendy Perrin WOW List. Allie Almario is the WOW expert for Ecuador and the Galapagos, while Dr. Neubauer is the WOW expert for Bhutan, Nepal and now Myanmar. Dr. Neubauer has also been Condé Nast Traveler's Nepal and Bhutan Top Travel Specialist since 2011.
Achievements: "Ultimate Adventure Outfitters From Around the Globe" – Travel + Leisure Magazine, 2010; "50 Tours of a Lifetime" – National Geographic Traveler, 2013 and 2015. Myths and Mountains was presented the 2015 Legacy in Travel Philanthropy Award from Tourism Cares.