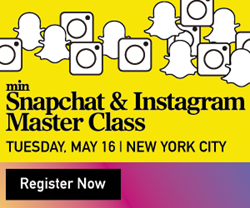 New York, NY (PRWEB) March 30, 2017
min has released the agenda for an action-packed Snapchat & Instagram Master Class, taking place on Tuesday, May 16 at the Yale Club in New York City. The full-day event will provide publishers and media brands with strategies and best practices to succeed on the two fastest rising social platforms. Early bird rates expire on Tuesday, April 25.
The agenda is set to cover:
-How to Fit Snapchat & Instagram Into Your Social Strategy
-How to Get the Most Out of Every Post
-How to Achieve Instant Success on Instagram
-How to Tell Better Stories on Snapchat & Instagram Stories
-How to Maximize Your ROI
-And More
Attendees will also have the opportunity to learn from Jessica Liu of Forrester Research during a moderated lunchtime presentation. As a Senior Analyst at Forrester, Liu focuses on serving B2C marketing professionals, with a special focus on social marketing. Prior to joining Forrester, Liu spent 10 years on the marketing agency side, working closely with leading B2C and B2B brands to define and execute their digital strategies.
For questions about the Master Class or registration, please contact Zoe Silverman at zsilverman(at)accessintel(dot)com. Early bird rates expire on Tuesday, April 25.
To inquire about sponsorship opportunities, please contact Tania Babiuk at tbabiuk(at)accessintel(dot)com.
About min:
min is the industry's trusted source on the consumer and b2b magazine business, reaching thousands of media executives through print, online and in-person events. For more than 60 years, min has been serving the magazine and media community with unparalleled coverage of this ever-changing industry. For more information, visit http://www.minonline.com.