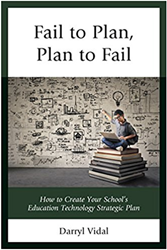 You have an Ed Tech Strategic plan? Let's see it!
San Diego, California (PRWEB) March 30, 2017
Networld Solutions' Vice President and Sr. Education Technology Consultant, Darryl Vidal is making more headlines. After being named one of the TOP 10 HOTTEST K12 SOLUTIONS PROVIDERS OF 2017, by Education Technology Insights magazine, he is also releasing his latest book on Technology Strategic Planning for K12 schools.
FAIL TO PLAN, PLAN TO FAIL is a book for Education Technology professionals who understand that Ed Tech projects are complex and costly, and therefore must be planned and managed just like any other large-scale project. Oftentimes Education Technology professionals move straight from naming an initiative, such as "1 to 1 computing," or "BYOD" (bring your own device) right into implementation, without taking into consideration the necessary infrastructure, bandwidth and capacity. Worse yet, some schools have implemented technology without the staff to support and maintain these systems, or the professional development for teachers to understand how to use the systems effectively in their classrooms.
In recent decades, with the massive call for classroom technology, the large-scale technology programs that have made the news have been huge failures, and have wasted millions of taxpayer dollars, taking some superintendents with them.
What is the key to avoiding these failures, and how can an educator insure that it doesn't happen to their school? The key is planning and project management. Education Technology Strategic Planning is the subject of this book. It provides a detailed process, called MAPIT(TM) that guides the planner through five phases for developing a school's Ed Tech Strategic Plan: Needs Identification, Needs Analysis, Recommendations, Feasibility and Implementation.
Vidal can often be heard saying, "You have an Ed Tech Strategic Plan? Let's see it." Often these Ed Tech plans are not much more than bullet-lists and cost estimates. Real Ed Tech Strategic Plans must state Objectives, be based on Educational Goals, and have Rough Order Magnitude (ROM) cost models. Ed Tech Strategic plans must be specific enough to design, procure and implement.
In addition to the MAPIT(TM) methodology for planning and project management, Vidal has also developed the Education Technology Strategic Assessment (ETSA) which is now available for free to all educators. The ETSA is a quick-turnaround assessment of a school's readiness for its students' 21st Century needs. The ETSA measures a school's state of readiness in four areas: Ed Tech Initiatives, Ed Tech Standards, Project Management, and IT Operations.
Schools can take the ETSA test from free. Take the ETSA.
FAIL TO PLAN is Vidal's fourth book dedicated to Education Technology. His previous books: N3XT Practices, VISION, and Confucius in the Technology Realm have received critical acclaim and are required reading for Education Technologists.
TOP 10 HOTTEST K12 SOLUTIONS PROVIDERS - 2017
Read the article...
Visit Darryl's blogsite: http://www.vidalcasey.com