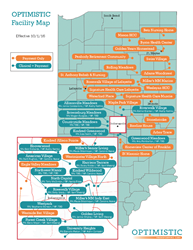 We are so excited to see this independent validation of the results of this collaborative partnership between these skilled nursing providers in Indiana and the OPTIMISTIC team.
Indianapolis, Indiana (PRWEB) March 30, 2017
Residents of Indiana skilled nursing centers involved in a CMS-funded initiative are taking significantly fewer trips to the hospital, according to a recent evaluation published in the March journal of Health Affairs. The paper produced by RTI International, an independent, nonprofit research institute, compared data from 19 facilities that participated in the first phase of the OPTIMISTIC project with a control group of facilities. RTI found that residents in the facilities that participated in the first phase of the project experienced a 25 percent reduction in all-cause hospitalizations and a 40 percent reduction in potentially avoidable hospitalizations in 2015, compared to the control group facilities.
OPTIMISTIC is a multi-component, quality improvement project created at Indiana University. The OPTIMISTIC model of care embeds a collaborative clinical team in nursing facilities to optimize chronic disease management, reduce unnecessary hospitalizations, and help residents develop and meet their goals of care. The program is only one of seven demonstration projects nationwide to receive funding through the CMS Innovation Center to reduce avoidable hospitalizations among nursing facility residents.
"We are so excited to see this independent validation of the results of this collaborative partnership between these skilled nursing providers in Indiana and the OPTIMISTIC team," said IHCA/INCAL President Zach Cattell. "I commend the commitment that both facilities and the faculty at Indiana University have put into this effort to create a new model of care that's deservedly gaining national attention."
Indiana facilities that have been part of the OPTIMISTIC project since its launch in spring 2013 have seen firsthand the improvements cited in the independent evaluation. Westpark, a Waters Community in Indianapolis, was among the pilot sites for the first phase of the initiative. The facility's rate of hospital readmissions among long-stay residents has noticeably decreased. Over two separate quarters of 2015, Westpark had a zero percent return to hospital rate, earning them a CMS Outstanding Achievement Award.
"It is a complete success," said Westpark Administrator Gina Couch. "CMS is going to prove that if we as long term care communities are truly given more education, more knowledge, we're going to have better outcomes. We're a small facility. If we can do it, everyone else can too."
Along with highlighting the interdisciplinary approach of OPTIMISTIC, the evaluation also pointed to a focus on advanced care planning as one of the model's strengths. Linda Colpron, the administrator at Brownsburg Meadows, an American Senior Communities facility, said the implementation of the POLST form, which documents a resident's end-of-life preferences, has been extremely beneficial for staff, residents and their loved ones.
"The OPTIMISTIC team conducted staff training on the form and even met with residents' families about it," said Colpron. "We're not providing unnecessary care to residents that they don't want. The nurses have detailed directions of what to do for them. The families love it as well, because it doesn't put them on the spot to make decisions at a difficult time."
Phase two of the project, which merges the OPTIMISTIC clinical model with a payment model, is being conducted in 44 facilities through September 2020.
"We have worked with the nursing facilities to fine tune and develop this care model," said OPTIMISTIC director Kathleen T. Unroe, M.D., MHA. "Their feedback is absolutely integral."
About IHCA/INCAL
The Indiana Health Care Association/Indiana Center for Assisted Living (IHCA/INCAL) is Indiana's largest trade association and advocate representing proprietary, not-for-profit and hospital-based skilled nursing, assisted living and senior independent living communities. Founded in 1958 as a not-for-profit organization dedicated to quality long term care, IHCA/INCAL's more than 350 member facilities care for more than 25,000 of Indiana's citizens in addition to providing rehabilitation services and other short-term care for many more. IHCA/INCAL members provide services to some of the most vulnerable Hoosiers, including geriatric, disabled, chronically ill and developmentally disabled individuals, the majority of whom are low-income Medicaid recipients.