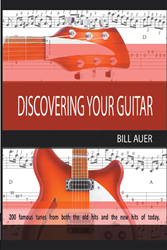 SYDNEY (PRWEB) April 03, 2017
Learning the guitar just got easier with the release of "Discovering Your Guitar." The book, by Sydney-based author Bill Auer, is a musical book chock full of valuable information for aspiring guitar players, seasoned guitar players and song writers alike.
'Guitar' features a plethora of iconic songs with detailed how-tos to accompany each. What's more, each song has a technical description, giving readers insight into songs one may have been otherwise unaware of. Half of the songs in 'Guitar' are made up from three, four or five chords at the most and, in addition, Auer discusses the advantages of the use of Capo, Bar chords and Transposing.
Auer has been playing the guitar for five decades and is well-versed in several genres of music. He has studied and learned from the likes of Graham Cox, Ike Isaacs, Steve McKenna and more. He attended the Sydney Conservatorium of Music in Sydney and has played with several bands over the last four decades.
"I can hear nearly any tune and write out a fairly accurate music transcription," said Auer. "I know music theory and I hope someone reading my book will take something away from it."
Featuring several songs with comprehensive instruction, "Discovering Your Guitar" is sure to strike a chord with guitar players of all levels. For more information about Bill and his book, please visit http://www.discoveringyourguitar.com.
"Discovering Your Guitar
By Bill Auer
ISBN: 978-1-51444-429-0 (softcover); 978-1-51444-428-3 (hardcover); 978-1-51444-430-6 (electronic)
Available at Xlibris Bookstore, Amazon and Barnes & Noble
About the author
Bill Auer is based in Sydney and is the former manager and conductor of the Sydney Jazz Band at the University of Technology Sydney.
###
Review Copies & Interview Requests:
LAVIDGE – Phoenix
Bryan Beach
480-998-2600 x 510
bbeach(at)lavidge(dot)com
General Inquiries:
LAVIDGE – Phoenix
Chris Pena
480-998-2600 x 519
cpena(at)lavidge(dot)com