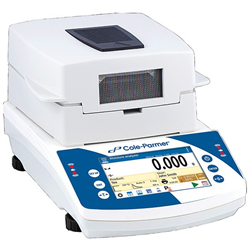 Vernon Hills, IL (PRWEB) March 30, 2017
Laboratory workers can now have a state-of-the-art touch-screen balance at their fingertips while remaining budget savvy. The new Cole-Parmer® Symmetry® touch-screen balances, with industry-leading warranties, boast many useful features at an affordable price.
Each balance style is designed for its own specific purpose, yet all are equipped with many of the same great features. A large color resistive touch-screen display allows workers to easily view weighted results and menu options. The home screen is customizable to individual needs. IR proximity touchless sensors offer programmable touch-free balance control.
Numerous weighing units plus two user-defined units cover most measurement needs. Data can be easily imported and exported easily via USB flash drive, and USB, RS-232, Ethernet offer secure connection; Wi-Fi is available on select models. Free database software is also included with each balance.
The expanded line of touch-screen balances includes:

For more information, go to ColeParmer.com/Symmetry
Cole-Parmer has been a leading global source of laboratory and industrial fluid handling products, instrumentation, equipment, and supplies since 1955. Our product lines, including popular brand names such as Masterflex®, Ismatec®, Oakton®, Digi-Sense™, and more, are sold through company-owned customer channel outlets and a strong network of international dealers. We also feature an ISO-17025-accredited metrology lab for instrument calibration and repair. Cole-Parmer responds with excellence to customer needs, and offers application expertise and technical support. For more information, contact Cole-Parmer, 625 East Bunker Court, Vernon Hills, IL 60061. In the US, call 1-800-323-4340. International customers, call 1-847-549-7600. You can also visit http://www.coleparmer.com.