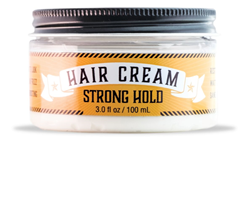 Grease is for your car and flowery scents are for your girl, so Buck's Burley products were designed to give you a powerful hold that's not crusty, and not flowery.
Orem, Utah (PRWEB) April 03, 2017
Buck's Burley Men's Grooming Products, developed for 'burley men and their biggest fans,' are now available on the crowdfunding site Indiegogo.
"Grease is for your car and flowery scents are for your girl, so Buck's Burley products were designed to give you a powerful hold that's not crusty, and not flowery," says Buck's Burley Men's Grooming Products Creator & Co-founder Jonathan Bybee. "So, for men who are already there, and men who want to go from girly to Burley, a good place to start is Buck's Burley hair care products…burley products for Burley men."
The complete line of Buck's Burley Men's Grooming Products includes:
Buck's Burley Men's Styling Cream – Providing a strong, flexible hold, the styling cream uses only the best ingredients to seal in moisture and 'dump the frizz,' along with other good stuff for intense conditioning. It restores, rebuilds and increases hair growth, so it's like sending your hair to the gym. You even get male pheromones, as though you needed any more of those, you burley man you.
Buck's Burley Men's Pomade – This stuff is a strong shot-put away from being just any old pomade. Buck's Burley Pomade hydrates, conditions, boosts pheromones and fights flyaways in one fell swoop, easier than splitting dried firewood. It even provides a manly sandalwood scent that isn't for ladies. And yet it is.
Buck's Burley Men's Beard Balm – As long as he's wearing clothes, nothing screams manliness more than a full, healthy beard hanging off a guy's face. A thick, well cared-for beard says this is a guy to be reckoned with – a guy in control of his world as much as his style. That's exactly the man Buck had in mind when they created Buck's Burley Beard Balm.
Buck's Burley Men's Beard Oil – Being a burley man can take its toll. And it's not just the permanent callouses and shark bite-level scars, but even a burley man's beard can tell a few stories, all on its own. An un-cared for beard is an unhappy beard, and whether you can see it or not, that's going to put a frown on the beard owner's face.
All Buck's Burley products contain natural ingredients and are packed with vitamins, minerals and anti-oxidants, including:

Argan Oil – A moisturizer for dry, flaky skin under a beard, for less dandruff and less itch.
Avocado Oil – Contains amazing amounts of essential nutrients, it provides intense moisture to both the beard hair follicle and face to help soften brittle and dry hair while adding shine and luster.
Carotene – An ingredient that assists in locking moisture into the beard while promoting the restoration of beard hair.
Castorlatum – A proprietary blend of castor oil and hydrogenated and partially hydrogenated castor oil that has a hair fixactive resin plasticizer and an excellent emollient/moisturizer that bring shine to the hair.
Cocoa Seed Butter – A beard softener that improves the beard's moisture levels.
Cola Moist 200 – A highly-ionized water soluble compound that enhances water bonding structures to provide deep conditioning and hydration and leave hair with a soft and silky after feel.
Jojoba Esters – The hydrogenated version of the Jojoba oil considered a true wax because of its similarity to the human sebum, which conditions the hair's moisture barrier, leaving beard hair better hydrated and moisturized.
Lipex SheaLigh – A shea butter-based emollient.
Lipex Sheaclear – A 100-percent clear liquid shea oil that originates from the African savannah. Assists in increasing the epidermal thickness to help revitalize the skin and soften and moisturize the hair.
Burley Man Essence – An active ingredient designed to enhance the male pheromone, promoting an increase in attractiveness.
Shea Butter – An ivory-colored natural vegetable fat comprised of saturated and unsaturated fatty acids, as well as Vitamins A, E and F.
Softisan 649 – A semisolid lanolin substitute with high water binding capacity that works as an excellent hair conditioner and gloss enhancer.
Sunflower Seed Oil – A great source of Vitamin E that provides intense moisture and conditioning for a smoother, shinier, and tangle-free beard.
Sweet Almond Oil – Obtained from the dried kernel of the almond tree and high in oleic acid that deeply conditions beard hair.
Viamerine WH60 – A poly-glyceride of sunflower oil that provides a stronger hold.
Vitamin E – Known for its ability to help with reparation and rebuilding of tissues, Vitamin E improves damaged follicles which will help in the increase of hair growth.
The products are simple and easy to use – the styling cream and pomade wash out with just water, or gravel if you prefer. Beard oil and balms wash out simply with soap and water.
All Buck's Burley Men's products contain a sandalwood scent because flowers were too girly and diesel fuel was a bit too much.
Buck's Burley Men's Grooming Products are now available at early-bird discounts during crowdfunding. For more information or to purchase these grooming products, visit the Buck's Burley Men's Campaign Page on Indiegogo.