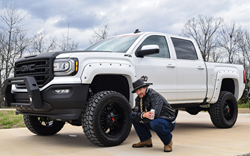 "Rocky Ridge sells cool....and normally cool ain't for sale" - Kid Rock
Nashville, TN (PRWEB) April 18, 2017
Rocky Ridge Trucks, the undisputed King of Custom Off-Road Trucks and Wranglers, delivers thousands of vehicles. Not often does that delivery involve the customer pulling up in a Rolls-Royce with a "Follow Me To The Waffle House" tag bracket, lean out the rear window, and shout "follow me haus." Then again..... not every customer is Kid Rock.
Rocky Ridge is known for being the gold standard in the custom truck world and their vehicles are driven by names like Luke Bryan, Jason Aldean, Chase Elliott, and many other high-profile celebrities. Rocky Ridge produces upgrade packages for the Chevrolet, GMC, Jeep, RAM, Ford, and Toyota truck lines. Many of their packages center around suspension or performance upgrades and their vehicles can be purchased at over 600 new car dealerships nationwide.
So how do you impress a guy with five Grammy nominations and millions of album sales? It's actually pretty simple: You build him something Badass!
The GMC Sierra starts off with a 6 inch Rocky Ridge Suspension Lift Kit, 35 inch Mickey Thompson Baja Tires, and Black 20 inch Havok Off-Road Wheels. The combination of larger tires and suspension upgrade adds over 9 1/2 inches of additional ground clearance, making the Sierra even more capable of handling the toughest terrain. Power side steps are installed to make getting in and out of the lifted truck a breeze. The Sierra's hood and bumpers are wrapped in Rocky Ridge's Stealth Coating, a military grade material similar to what is used to encase the walls of the Pentagon. To finish out the front, this Sierra receives a rolled steel bull-bar equipped with a 20 inch LED light bar for better illumination when going off road.
GMC's stock 5.3L V-8 puts out plenty of power for the average consumer even after the larger tires are installed.....but this is Kid Rock. Rocky Ridge added a 2.9L Twin-Screw Supercharger and a Magnaflow side exit dual exhaust which bumps the output to an incredible 557 horsepower!
To add a touch of Kid Rock flavor to this GMC, Rocky Ridge wrapped the interior with custom embroidered leather seats featuring Kid Rock's "American Bad Ass" logo. Finally, the rear of the truck is accented with a custom plasma cut "Detroit Cowboy" emblem so you know who just passed you. This "American Bad Ass" Edition Rocky Ridge is one of a kind but they build other packages that can purchased through a Chevrolet, Jeep, RAM, Ford, and Toyota Dealer. You can see pictures of other Rocky Ridge Packages on Facebook, Twitter, and Instagram. To learn more visit rockyridgetrucks.com