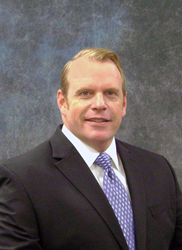 With the world class talent we have at Boon Edam, our ultimate goal is to make the customer experience effortless from beginning to end. Kevin Thomasson, Boon Edam Vice President of Customer Experience
Lillington, NC (PRWEB) March 30, 2017
Boon Edam Inc., a global leader in security entrances and architectural revolving doors, today announced that the company has hired a new Vice President of Customer Experience and further expanded its sales team to support continued strong demand for entrance solutions in the Americas.
New Vice President of Customer Experience
Kevin Thomasson was recently hired by Boon Edam to drive efficiency in sales support and order fulfillment. Kevin has over 16 years of sales, marketing, and operations experience, managing and directing teams from ChannelAdvisor, LexisNexis, and SciQuest.
At Boon Edam, Kevin's team includes: Technical Training, Inside Sales, Project Coordination, Installation Support and Technical Support. Project Coordination is an innovative new department that originated from Inside Sales and will specialize in submittal drawings, custom engineering requests, order fulfillment, and delivery coordination. Kevin stated, "With the world class talent we have at Boon Edam, our ultimate goal is to make the customer experience effortless from beginning to end." Kevin works at the Lillington plant and lives in Cary, NC.
Four New Business Development Managers
To increase sales coverage and further improve customer service in the USA, Boon Edam has hired new Business Development Managers to deliver on-site entrance consultations in smaller geographic regions. All Business Development Managers report to National Sales Managers Valerie Anderson (Midwest, Canada and East) or JC Powell (West and South).
Jon Merone, is the new Mid-Atlantic Region Business Development Manager. He is a native of Iowa and is a seasoned professional with a sales background in the industries of construction, industrial, environmental and electrical utilities. His recent companies include Lekson Associates, Safety-Kleen, and Pella. Jon covers Maryland, Virginia, and Washington, DC and is based in Frederick, MD.
Lyndell Kline is Boon Edam's Northeast Region Business Development Manager brings over 22 years' experience in the security industry, in both the integrator/dealer and manufacturing segments. Lyndell was the Director of Sales for Security First, Inc. and Senior Sales Representative for UTC Fire and Security. She covers New York (excluding New York City), Pennsylvania and Delaware, and is based in Wyomissing, PA.
Todd Yandell is the Business Development Manager for the South Texas Region. A native of Houston, Texas, Todd has spent the last 17 years in the construction industry in sales and sales management with companies such as Sika Sarnafil and Duro-Last, focusing on specifiers and builders for commercial applications. He is based in Houston, TX.
Kevin Friend is the new Business Development Manager for the Midwest Central Region, covering Iowa, Kansas, Missouri, Nebraska, South Dakota, North Dakota, and Minnesota. An Ohio native, he has spent the last 18 years working in the construction industry in Sales Management and Business Development. His experience has spanned working in Business Development for an exterior glazing contractor to Sales Management with the Stonhard Group. Kevin works out of West Des Moines, IA.
Enterprise Sales Expansion
Enterprise Accounts was an initiative started in 2013, and is headed by Mark Perkins, VP of Enterprise Security Accounts. The team works in cooperation with regional BDMs to ensure that Enterprise customers receive superior service at all levels. Two new members were promoted from regional Business Development Manager roles to BDM – Enterprise Accounts:
Dale Gigandet, PE, CPP, CISSP, covers the Eastern Region. He is a seasoned, 30-year veteran of the security industry, with an extensive background in design/build solutions for protecting people and property from security threats and vulnerabilities. Dale is a registered professional engineer, certified protection professional, and certified information systems security professional based in Newbury, MA.
Ted Lewis covers the Western Region and has been in the security industry for over 24 years. He has gained experience at various companies including EMI, Stantron, Nice Systems, Vicon, and he's served as an independent manufacturer's representative for Pelco, Exacq, Speco Paxton, and Vigilant Video. Ted has acquired various certifications throughout his career including Pelco, Exacq, Vicon, AMAG, GE, Hirsch, and others. He is based in Valencia, California.
For Further Information, Please Contact:
Tracie Thomas
Marketing Manager
T 910 814 8239
E tracie.thomas(at)boonedam(dot)com
For Media Queries, Please Contact:
Bruce Doneff
Public Relations
T 843 476 3022
E doneff(at)verizon(dot)net
About Royal Boon Edam
With work environments becoming increasingly global and dynamic, the smart, safe entry has become the center of activity in and around many buildings. Royal Boon Edam is a global market leader in reliable entry solutions. Headquartered in the Netherlands, with 140 years of experience in engineering quality, we have gained extensive expertise in managing the transit of people through office buildings, airports, healthcare facilities, hotels and many other types of buildings. We are focused on providing an optimal, sustainable experience for our clients and their clients. By working together with you, our client, we help determine the exact requirements for the entry point in and around your building. You can find more news about Boon Edam on http://www.boonedam.us/news.