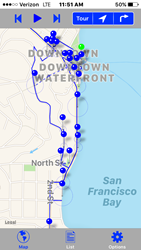 "Tours4Mobile did for audio tours and guide books what TV did for radio - added pictures!" Emmy Award-winning TV Host Mark DeCarlo
San Francisco, California (PRWEB) March 30, 2017
Just in time for the tourism industry's recent focus on Tours and Activity providers, Tours4Mobile has added six new apps to their offering of 200+ worldwide professionally curated digital tours, and will demonstrate these at the Launch Festival on April 6th at the Innovation Hangar & Palace of Fine Arts Theater in San Francisco.
Features include:

Geo-triggered audio, combined with images and text.
Easy to follow tour paths with directions on where to begin and end. Stop and start anywhere along the way.
Tour Zones – fast map zoom and pan, providing an overview of the tour.
Visual Audio Zones – see when the audio will be activated. No guessing where and when to expect audio.
Directions – get real-time directions from a current location to any POI (point of interest) in the tour.
No limitations typical of live tour guides - no set schedule or reservations required, and much less expensive. Download it and use it anytime.
No on-going commitment - no sign-up process or subscription fees.
Off-line and off-network interactive functions to preview the tours.
No annoying ads.
The travel industry is seeing major developments in the Tours and Activities arena* and these digital tours are new opportunities for upselling during the reservation/booking process. Tours4Mobile Founder Marie Profant notes, "We offer an on-demand product, perfect for the B2B environment because the tours can be integrated into any eCommerce strategy to enhance any trip and in fact they can entice clients to book."
Travelers get unique experiences on their own schedule, using these walking and driving tours for exploring San Francisco's Chinatown, Embarcadero Waterfront, Telegraph Hill, National Parks, and Sausalito, as well as Hollywood and Beverly Hills. They are intended for foodies, shoppers, hikers, historians - any traveler in an unfamiliar setting. Local experts who are professional travel writers have provided the narratives for these tours, which differ from other products because they include pictures throughout, and an average of 100 points of interest per tour, much more content than most any others on the market.
Emmy Award-winning TV Host Mark DeCarlo, recently stated, "Tours4Mobile did for audio tours and guide books what TV did for radio - added pictures!" And a VP at Lonely Planet said, "You have done what we've been trying to do for 10 years - bring travel writing into the digital age!"
Profant elaborates about their history: "Tours4Mobile created the first cross-platform guided tours, and now we have the largest selection of destination tour guides for mobiles. Before we started the company, our friends who took audio tours often argued about which building the narrator was referring to, so we decided to solve that problem. The visuals allow people to preview and better plan where they want to spend their valuable time and money. At the destination, they know what the narrator is talking about, and for those at home, 'virtual' travelers can transport themselves there as well. Based on this concept we have sold thousands of tours, both narrated and in QuietGuide® format – which is like an eBook but with tons of images and interactive maps. Now, by adding location-aware features, we've made the tours even more convenient: you don't need to tap or click a thing to start the narration. As we like to say, it is 'as smart as your new mobile device'."
These new apps are available in the Apple and Android stores for $4.99 each. Look for more Tours4Mobile, with real-time navigation software by iApp Tours, in the coming weeks.
You can find these new apps to download now on these pages - look for the Apple and Google logos:
San Francisco: http://tours4mobile.com/visiting-san-francisco-chinatown-embarcadero/
Hollywood and Beverly Hills: http://tours4mobile.com/tours/california-tours/four-areas-of-los-angeles/
*References:
Tours and Activities 2017: https://skift.com/?s=tours+and+activities