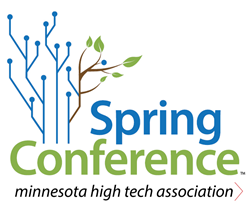 Minneapolis, Minnesota (PRWEB) March 30, 2017
Each year, the Minnesota High Tech Association (MHTA) hosts an all-day gathering of 700 science and technology leaders and professionals that highlights local companies, their breakthroughs and the people behind them. This year's Spring Conference will be held on Tuesday, May 9 at the Minneapolis Depot Renaissance and feature more than 15 breakout sessions and 40 exhibitors in addition to keynote speakers. Conference tracks will focus digital transformation, innovation, and science and technology leadership.
"Our conference will offer local science and technology professionals the opportunity to connect, share knowledge, and hear from some fantastic speakers," said Margaret Anderson Kelliher, president & CEO of MHTA. "We're excited to bring everyone together to highlight the technology that is transforming the heartland."
Keynote Speakers
Neel Kashkari, President, Minneapolis Federal Reserve Bank
Neel Kashkari is the 13th president of the Minneapolis Federal Reserve Bank. He was born and raised Ohio and first worked as an aerospace engineer. Later he attended the Wharton School of Business and covered the technology security sector for Goldman Sachs. Ten years ago the Secretary of the Treasury tapped Kashkari to administer the Troubled Asset Relief Program (TARP) during the financial crisis. Kashkari is currently a voting member of the Federal Reserve's policy-setting panel.
Chris Wolf, VP & Global CTO, VMware — Empowering Business Innovation and Agility
These days, business innovation and agility mean faster time to market with cool new ideas. The introduction of new business models and alternative delivery channels. And, of course, a mobile-first approach with an app for everything.
Your business is counting on IT to deliver the modern data center and cloud technologies that will help the company stay nimble and inventive. And if IT isn't fast enough, business users will simply go to the public cloud for what they need. You want to deliver the IT environment and cloud flexibility the business needs—but with the visibility, security, and governance your company requires. How can you do both?
Join us to explore IT strategies that deliver the flexibility and control you need to empower your organization's innovation and agility.
Chris Wolf serves as CTO, Global Field and Industry at VMware. In that role, Chris is responsible for driving the execution and communication of the Office of the CTO's vision, internally and externally, supporting VMware's global field teams on all CTO evangelism and representing VMware's technical vision to customers, partners and analysts. He also owns and manages the field CTO activities and helps drive the CTO Ambassador (CTOA) programs and industry-vertical CTO activities.
Mainstage Session
From Agile to Devops – How can a science and tech company go from being a traditional "box" software company to a SaaS? Hear from Brian Harry, Product Unit Manager for Team Foundation Server, and explore Microsoft Visual Studio's transition from a multi-year software release cadence to continuous delivery from the public cloud.
Breakout Sessions
Digital Transformation

The Technology Behind Digital Transformation: Digital transformation is all about the business, but it take technology to make it happen. In this session, leaders from VMware demonstrate how the cloud, data centers, workspaces, security and virtualization are all pieces of the puzzle.
Improve User Experience through Tech Collaboration: Join Crux Collaborative and experts from UnitedHealth Group, Medica & Zipnosis as they demonstrate how design aligns technical and marketing teams, saves time, budget and in the end produces a more successful user centric solution.
Tech Enabled Workplace: Empower the Business, Enhance the Experience: How do companies adapt, maintain, or reinvent themselves to integrate intelligent buildings, innovative environments and worker mobility into their organizations? Come learn from experts at Colliers, Cuningham Group, Parallel Technologies and 75F who work on the front lines of smart building design, workplace strategy and interactive technologies.
Create Your Digital Transformation Plan: Learn from the technology leaders at brightpeak financial about how they leveraged digital transformation to create a new business with a distinct audience and mission.
Innovation
Enterprise & Entrepreneurs: Innovating Together: In this lively session, U.S. Banks's Innovation Team leaders will discuss their criteria and process for partnering with startups to help drive innovation within the bank and Mobile Composer's CEO will share how working with the U. S Bank innovation team helped launch their successful flagship SaaS product.
An Epic Transformation: How has a company started in the middle of a Wisconsin farm field grow to become a world leader in electronic health records? Hear from the local leaders who helped design and build an innovative campus that is home to 8000 Midwest tech workers.
Accelerate Digital with Mobile Technologies: Technology spending is catching up with mobile innovations. Local experts join MentorMate to demonstrate how mobile-first strategies and implantation can accelerate digital growth and the enterprise.
Science & Technology Leadership
Talent Alternatives in the Current Environment: A new budget, tax reform and immigration policy changes are all poised to have a big impact of science and technology companies. How could the current landscape change and what alternatives should local leaders consider when it comes to talent?
Leading Technology Transformation: The dev team and the business have to work better together. How do you balance security with automation, continuity and other business goals? This session will highlight strategies and tactics tech leaders must employ.
Cyber Liability: What the Board of Directors Need to Know: Join experts from Associated Benefits and Risk Consultants and local tech leaders for an overview of cyber threats and liabilities.
Those interested in speaking, submitting an idea or sponsoring Spring Conference can contact organizers at news(at)mhta(dot)org.
MHTA will continue to announce speakers and breakout sessions in the weeks to come. Additional details about the 2017 Spring Conference – including registration and sponsorship information-- are available at http://www.mhta.org/event/spring/.
MHTA appreciates the generous support of the sponsors who make the 2017 Conference possible:
Gold: Optum, Thomson Reuters, VMware
VIP Dinner: Eagle Creek Software Services
Silver: Implex, Manifest Technology
CIO Breakfast: Genesis10
Bronze: Associated Benefits and Risk Consultants, Crux Collaborative, Sagitec, Virteva
Next-Generation: Microsoft
Tech Talk: FRSecure, MentorMate, Tegile
About Minnesota High Tech Association (MHTA)
MHTA is an innovation and technology association united in fueling Minnesota's prosperity and making Minnesota a top five technology state. We help bring together the people of Minnesota's technology ecosystem and lead the charge in directing technology issues to Minnesota's state capitol. MHTA is the only membership organization that represents Minnesota's entire technology-based economy. MHTA members include organizations of every size − involved in virtually every aspect of technology creation, production, application and education in Minnesota. Find out more online at http://www.mhta.org or follow MHTA on Twitter at http://twitter.com/MHTA.