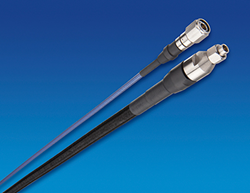 Pleinfeld, Germany (PRWEB) March 30, 2017
W. L. Gore & Associates, Inc. (Gore) is pleased to announce that starting this summer, GORE® Microwave Sealed Airframe Assemblies will be used to improve Wi-Fi internet access on European short-haul flights.
The European Aviation Network is a next generation platform from mobile satellite communications provider Inmarsat that will provide a true in-flight broadband experience for millions of airline passengers across Europe. It is the first solution in the world to combine high capacity satellite coverage operated by Inmarsat and a 4G LTE ground network, operated by the telecommunications company Deutsche Telekom, to provide high-speed connectivity.
Passengers will benefit from this integrated approach by getting the speed that a ground network can deliver and the continual coverage that only a satellite can provide. To do this successfully, data transmission between satellite, ground towers and the aircraft must work seamlessly. This is where Gore's assemblies come into play.
GORE® Microwave Sealed Airframe Assemblies are vapor-sealed to provide durable protection against the ingress of water vapor, jet fuel and other contaminants. The robust construction of Gore's assemblies also provides outstanding shielding effectiveness against electromagnetic interference that can compromise signal integrity over long distances and reduce the quality of signal transmission.
GORE® Microwave Sealed Airframe Assemblies are installed onto the aircraft, connecting the antennae located on the belly of the plane to the transceivers on the ground.
Product specialist Jim Foreman said, "It's a challenging environment, considering that liquid contaminants will naturally flow to the lowest point in the fuselage where the antenna is located. For this reason, the cable assembly must be vapor-sealed to provide durable protection against water, vapor, jet fuel, hydraulic oils and other contaminants. Our product meets this strict requirement."
For more information about GORE® Microwave Sealed Airframe Assemblies and other high-performance solutions, visit Booth 2D60 at the AIX Expo or online at gore.com/aix2017.
About W. L. Gore & Associates, Inc.
Gore is a technology-driven company focused on discovery and product innovation. Well known for waterproof, breathable GORE-TEX® fabric, the company's portfolio includes everything from high-performance fabrics and implantable medical devices to industrial manufacturing components and aerospace electronics. Founded in 1958 and headquartered in Newark, Delaware, Gore employs more than 10,000 associates with manufacturing facilities in the United States, Germany, the United Kingdom, Japan and China, and sales offices around the world. Gore is one of a select few companies to appear on all of the U.S. "100 Best Companies to Work For" lists since the rankings debuted in 1984. The company also appears regularly on similar lists around the world. Learn more at gore.com.