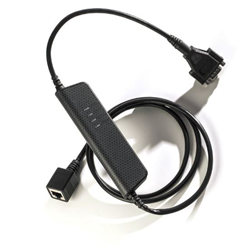 Our aim is for our hardware to bring users greater access to all of CAN's varied possibilities.
Mission Viejo, Calif. (PRWEB) March 30, 2017
March 30, 2017: Meet the Ethercan Light HS, Kvaser's answer to CAN-to-Ethernet connectivity. This compact, lightweight device fosters "Internet of Things"-type communication between other CAN hardware. More importantly, it allows users to access real-time CAN data remotely—something impossible with traditional USB connectivity. While primarily used in industrial automation and, more recently, the auto industry, the Ethercan Light HS has big implications for a wide array of sectors, including aerospace, defense, medical devices and innovative design, like robotics and large-scale solar equipment.
President Lars-Berno Fredriksson said of the innovative device, "Kvaser is proud to bring simple, well-designed CAN bus products, like the Ethercan, to the market. Our aim is for our hardware to bring users greater access to all of CAN's varied possibilities."
While CAN-to-Ethernet connectivity isn't a new concept, it is one plagued by complex and cumbersome hardware. The Ethercan Light HS can detect and adjust for changing Ethernet cable connections (be it straight-through or crossover), and the gateway device ensures the smooth collection and transmission of real-time data, despite small internet disruptions. Additionally, the Ethercan features:
High-speed CAN connection, up to 1 Mb/s
PoE or with CAN devices, like the T-Cannector v2
Factory reset button for returning to default setting IP address
Full compatibility with J1939, CANopen, NME 2000R and DeviceNet
Lightweight, compact, galvanically isolated shell
To learn more about the Kvaser Ethercan Light HS, including detailed product specifications, click here.
About Kvaser: Kvaser is a world leading CAN development company. We provide advanced CAN solutions to engineers designing and deploying systems in areas as wide ranging as transportation (including electric vehicles), industrial automation, avionics, construction equipment, building automation, domestic appliances, marine, medical, military, railway, telecoms, textiles and more. Through well-developed, reliable hardware and lightweight, durable casings, our products are created to simplify the lives of our engineer customers.