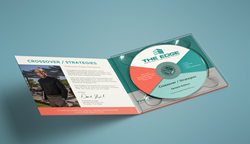 This turned my least productive time into some of my most valuable time!
Dallas, TX (PRWEB) April 03, 2017
Interior designers not only run a highly complex business, but they spend a tremendous amount of time in their cars—time that is often not billable to clients!
A recent survey conducted by DPI indicated that designers can spend up to ten hours a week, or 500 hours a year in their cars as they shuttle back and forth from their offices to job sites, design showrooms, customers' homes, and the usual errands that most adults, and all parents have.
"I've toyed with this concept in the past," said Designing Profits CEO David Shepherd, "but these results really sealed the deal. Why not create an audio CD that designers could listen to in their cars—even while stuck in traffic—and provide them with education, entertainment, and inspiration about ways to improve their business performance?"
"I'm already hooked," said interior designer and early adopter Cathy Waters. "I've replaced road rage with what feels like an executive education seminar!"
Monthly topics include case studies on finance, marketing, strategy and other topics, all drawn from Shepherd's personal coaching and consulting work with designers over the past thirteen years. "I'm fairly confident that my work with designers, combined with my time as a university professor, gives me the most exhaustive library of 'best practices' in the industry today."
The audio CD, called Crossover Strategies for it's focus on bringing new idea and methods to designers, is a part of a suite of benefits offered to Principal level members of The Edge. The Edge is an online source for print, audio, and video resources designed to help designers improve their bottom lines, and the quality of their lives.
"We decided to offer a sample Crossover Strategies CD to all new members of The Edge in April," Shepherd continued. "Even those who sign up at our free level will receive the CD as our gift."
To begin a no cost, no obligation membership in The Edge, and receive the Crossover Strategies CD, interior designers can simply visit http://www.designingprofits.com and click, "Join," or click on the link below.
"There's absolutely no obligation," Shepherd said. "But like more and more designers every week, when they see the benefits of joining at one of our paid levels, I'm confident this promotion will be a success for everyone involved."
The Edge is a subsidiary of Designing Profits, Inc. Designing Profits originally created the Business of Design Conference held in cities including Cancun, New York, Las Vegas, Atlanta and more. More than 3,000 interior designers have attended various Designing Profits events, and participated in its vast national coaching networks. For information, visit http://www.designingprofits.com.
For information, please visit http://www.designingprofits.com.