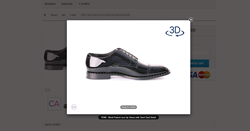 Using 3D technologies is a perfect way for e-merchants to boost their conversion rates and significantly decrease the number of returns, letting customers make right choices and engage emotionally.
Santa Clara, California (PRWEB) March 31, 2017
Cappasity Inc., a developer of 3D product imaging solutions made especially for e-commerce, is pleased to announce its partnership with TSUM.ru -- an online platform for TSUM, the largest luxury department store in Eastern Europe and one of the biggest online platforms in the region. The Cappasity technology will be used for 3D digitizing and 3D product showcase for more than 2000 luxury brands, among which are such brands as Dolce&Gabbana, Valentino, Celine, Ralph Lauren, Alexander McQueen, Brioni, Loro Piana, Chopard, Rolex, Graff, Garrard, Patek Philippe, interior brands, luxury perfume, makeup and skincare brands.
Since 2013, Cappasity has been dedicated to the development of 3D digitizing technologies to help online retailers win over customers and decrease return rates thanks to true-to-life product imaging. The company's products allow anyone to quickly produce high-quality 3D content and easily integrate it into a website or applications.
In comparison to traditional 2D photos, 3D images bring a brand new digital shopping experience. A buyer is able to rotate, zoom and look at the product from different angles, which brings them as close as possible to the product while shopping online. 3D images are proven to increase engagement and conversion over 2D photos by up to 30%.
TSUM account on Cappasity - https://3d.cappasity.com/u/tsum
Product page with 3D (Press 360 button) - https://www.tsum.ru/catalog/bosonozhki-4074/kozhanye_pletenye_bosonozhki_na_shpilke-5118963-color-korichnevyy.html
About Cappasity
Cappasity is a cloud-based platform that lets online stores easily create and deliver 3D, VR and AR shopping experiences. Cappasity Inc.'s mission is to make 3D imaging as easy as taking photos. We strive to help improve online shopping experience for everyone and make it as engaging and exciting as it is when shopping in retail shops. In March 2017 Cappasity Inc. joined Plug and Play Retail accelerator.
How it works video - https://youtu.be/1WLwaAsq1Sg
To learn more, visit http://cappasity.com/
About TSUM
Today TSUM, with its 70,000 square meters, is the largest department store in Eastern Europe. It offers ready-to-wear, shoes and accessories collections of the world's leading fashion brands including Dolce & Gabbana, Valentino, Céline, Ralph Lauren, Kiton, Brioni, Ermenegildo Zegna, Tom Ford, Lanvin, Alexander McQueen, Louis Vuitton, Prada, Chanel, Fendi etc.; jewellery and watches by Rolex, Patek Philippe, Hublot, Chopard, Garrard, Graff, Mikimoto etc.; porcelain and homeware by Baccarat, Christofle, Lalique, Daum, as well as perfumery and cosmetics of the leading brands. Since 2002 TSUM is under the management of the Mercury Group – Russia's largest luxury goods distributor, with more than 20-years' experience in fashion retail.
Official website – http://www.tsum.ru