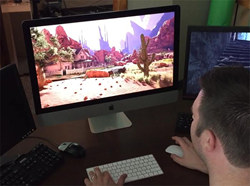 Spokane, WA (PRWEB) March 30, 2017
Cyan Inc., the creators of Myst, announced today that their critically-acclaimed sci-fi adventure game, Obduction, is now available on Mac for $29.99 on the Mac App Store, Steam, GoG and the Humble Store. The addition of the long-awaited Mac version means that Obduction is now playable on Mac and Windows operating systems as well as in VR for the Oculus Rift and HTC Vive.
"I've been a Mac user since 1984," said Rand Miller, CEO of Cyan, "and many people may not realize that Myst was released on the Mac before the PC version. So, eventhough our Mac release of Obduction came a bit later, it demonstrates our continued commitment to the Mac platform."
Cyan has a long history of creating Mac compatible entertainment software - including some early titles (Cosmic Osmo and Spelunx) that were only available for Mac. A highlight of the relationship was a MacWorld Keynote appearance by Rand Miller in 1998 where Steve Jobs introduced the first DVD version of Riven. For Obduction, both Apple and Epic (with Unreal Engine 4) provided invaluable assistance to help polish Obduction. The end result is a version of Obduction that works well, even on Macs that are a few years old. The recommended specs are available on the Obduction website at obduction.com.
Also with the release of the Mac version, Cyan is ready to finalize and fulfill the Kickstarter rewards for crowd-funding supporters of Obduction. Many of the items have already been printed, and shipping of the final physical rewards has been waiting for the final Mac version, so pressing and packaging of the commemorative Obduction DVD could begin.
Obduction continues to win critical acclaim - recently as a SXSW Gamers Voice Award nominee, as well as being named by PCWorld as Best Adventure Game of 2016.
About Cyan
Cyan is a legendary indie games studio headquartered in Spokane, Washington, best known for award-winning games Myst and Riven. Cyan's newest release, Obduction, is a critically-acclaimed sci-fi adventure game available on Mac, PC, Rift, and Vive on Mac App Store, Steam, GoG, Humble Store and the Oculus Store, coming soon to PS4 and PSVR. For more information, visit http://www.cyan.com.
Obduction Press Kit
http://www.obduction.com/press
Obduction Accolades
https://youtu.be/WF8BXbEDKQQ
http://www.obduction.com/news
Obduction Trailer
https://youtu.be/2wCPOTK587o
Available for Download
Mac App Store: https://itunes.apple.com/us/app/obduction/id1183537149?ls=1&mt=12
Steam: http://store.steampowered.com/app/306760
GoG: https://www.gog.com/game/obduction
Humble: https://www.humblebundle.com/store
Oculus: https://www.oculus.com/experiences/rift/1272728086074533
Join the Obduction Community!
Website: http://www.obduction.com
Facebook: http://www.facebook.com/obduction
Twitter: http://www.twitter.com/obduction
YouTube: http://www.youtube.com/c/cyan-official
Wiki: http://obduction.gamepedia.com/Obduction_Wiki
Media Contact
Martine Paris, Director of PR, Cyan, Inc., martine(at)cyan(dot)com