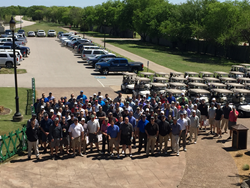 The Colony, TX (PRWEB) March 31, 2017
On the afternoon of March 30, Adolfson & Peterson Construction (AP) hosted its second annual Charity Golf Classic at The Tribute in The Colony, with proceeds going to The YMCA, Big Brothers Big Sisters (BBBS), Troops First Foundation and 22Kill.
Attendees were treated to beautiful weather as 144 golfers took to the course for the shotgun start of the scramble tournament. The sold-out tournament was focused on raising funds to support veterans and at-risk youth. Over the last year, AP has also been involved in Hearts and Hammers, The Warran Center Toy Drive, Dallas Children's Advocacy Center and many other efforts to assist non-profit organizations in our community.
Through various sponsorship and individual donations, AP was able to secure sizeable donations which will help to provide financial assistance to support veterans and youth in our communities. AP will be scheduling individual ceremonies with The YMCA, BBBS, Troops First Foundation and 22Kill in the coming weeks to make official donations to each of these organization.
"This event is just one of the many ways we seek to carry out our Vision "to build a better tomorrow" by giving back to the communities where we live and work," said Corbett Nichter, Senior Vice President with AP. "This golf tournament reflects the generosity of AP's partners throughout the DFW area and beyond and, collectively, will be able to make a material impact on these organization and the individuals whom they serve."
Major sponsors of the golf tournament included: Presenting Sponsor ($10,000): Walker Electrical; Silver Sponsors ($7,500): Dallas Mechanical Group and TD Industries; Bronze Sponsors ($5,000): Baker and Piper Weatherford; Dinner Sponsor ($3500): Potter Structures; and Lunch Sponsor ($3500): Wright Construction.
Other sponsors included: 24 Hour LTD, Brandt, Carrco, Complete Fire Protection, Denison Glass, Earth Tones, Enterprise Precast, Fabulous Floors, GMI, EyeSite Surveillance, Iowa Bridge and Culvert, JMEG, J&E Masonry, Kent Companies, LCR Contractor, Matrix, Naylor, PDL, ROC Construction, RPMX, Suncoast Post Tension, Southwest Construction Services, TAS, Tridal, Trinity, Vaden's Acoustics & Drywall, Value Lighting, Venture Mechanical and Vilhauer.
About Adolfson & Peterson Construction
Adolfson & Peterson Construction (AP) is a U.S.-based, privately held firm that is consistently ranked among the top 50 construction managers and general contractors in the nation. Founded in 1946, the company has built longstanding commitments to the regions in which it operates and is known nationally for its innovative and collaborative approaches within the building industry. AP serves the education, healthcare, commercial, municipal and senior living market segments from its offices in Dallas, Denver, Minneapolis, Phoenix and Charlotte. For more information, visit a-p.com and follow us on Facebook, LinkedIn and Twitter.
About Park Cities YMCA
The Y is one of the nation's leading nonprofits strengthening communities through youth development, healthy living and social responsibility. Across the U.S., 2,687 Ys engage 21 million men, women and children – regardless of age, income or background – to nurture the potential of children and teens, improve the nation's health and well-being, and provide opportunities to give back and support neighbors. Anchored in 22 North Texas communities, the Dallas Y has the long-standing relationships and physical presence not just to promise, but to deliver, lasting personal and social change.
Big Brothers Big Sisters
For more than 100 years, Big Brothers Big Sisters has operated under the belief that inherent in every child is the ability to succeed and thrive in life. As the nation's largest donor- and volunteer-supported mentoring network, Big Brothers Big Sisters makes meaningful, monitored matches between adult volunteers ("Bigs") and children ("Littles"), ages 6 through 18, in communities across the country. We develop positive relationships that have a direct and lasting effect on the lives of young people.
Troops First Foundation
Feherty's Troops First Foundation works to provide meaningful assistance to our military who have been wounded while serving in Iraq and Afghanistan. Through several relevant and unduplicated programs along with specialized events designed for OIF/OEF combat-wounded service members and their families, Troops First addresses relationship building, mentoring, reintegration and looking forward.
About 22Kill
22KILL is a global movement bridging the gap between veterans and civilians to build a community of support. 22KILL works to raise awareness to the suicide epidemic that is plaguing our country, and educate the public on mental health issues such as PTS. The name "22KILL" comes from a 2012 VA Suicide Data Report that found that an average of 22 veterans are "KILLED By Suicide" (KBS) every day.