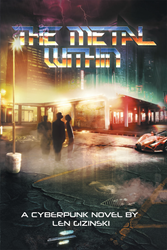 Olympia, Wash. (PRWEB) April 03, 2017
Long-time cyberpunk fan, Len Gizinski recently wrote his first novel, "The Metal Within." The book was inspired more than 20 years ago, beginning as an idea for a futuristic role-playing game.
"The Metal Within" is the debut novel in an intended science fiction series set in a dystopian 2048, carrying age-old messages of morality and good versus evil. Cyber technology plays a key role in the new apocalyptic tale, bringing a new perspective to what is typically seen in the genre.
The book opens with a focus on one of the main characters, Jack, who lives in what remains of the mid-21st century, which has been ravaged by missile strikes, riots, and civil wars. Throughout the storyline, readers will be introduced to prominent characters as they encounter a covert organization that targets threats to citizens.
"What I've found over the years is there is a lack of uplifting science fiction for young adults, especially in Christian fiction," said Gizinski. "I believe it's important to take on filling this void for those who are drawn to science fiction stories more than the medieval and fantasy genres."
Readers will be enthralled with the intriguing dialogue, excellent pace, frequent drama, and intricate storyline as the colorful characters attempt to make their way through the harrowing world in which they live.
"The Metal Within"
By: Len Gizinski
ISBN: 978-1-4808-3863-5 (sc); 978-1-4808-3864-2 (hc); 978-1-4808-3865-9 (e)
Available on Archway Publishing, Barnes and Noble and Amazon
About the author
Len Gizinski is a long-time cyberpunk fan and a Christian whose background includes military and corporate security, information technology, and local church and street ministry. He enjoys spending time with family, attending Capital Christian Center, reading, writing, and bicycling. Metal Within is the ¬first book in an intended series. For more information, please visit http://www.authorlengizinski.com/.
###
Review Copies & Interview Requests:
LAVIDGE – Phoenix
Courtney Coombes
480-998-2600 x 612
ccoombes(at)lavidge(dot)com
General Inquiries:
LAVIDGE – Phoenix
Maggie Driver
480-998-2600 x 584
mdriver(at)lavidge(dot)com