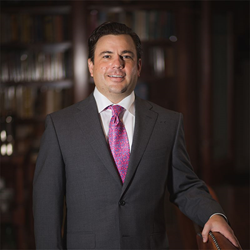 Houston, Texas (PRWEB) March 29, 2017
Houston Personal Injury Attorney Greg Fibich has been named to the prestigious 2017 Texas Super Lawyers list of Rising Stars, a significant achievement that places him in the top 2.5% of all practicing lawyers in the state. In addition, Greg was also singled out for inclusion in the Up-and-Coming 100: 2017 Texas Rising Stars List, which distinguishes him among the very top of all lawyers statewide selected for Rising Stars.
Greg's recognition from one of the nation's most respected attorney rating services is a testament to his abilities as a proven litigator and bold advocate for the injured and the wronged. Due to his unwavering commitment to justice and to helping clients secure the compensation they deserve following preventable accidents and injuries, this is the fourth consecutive year he has been named to the Super Lawyers list of Rising Stars. The list recognizes lawyers under the age of 40(or in practice for less than 10 years) that have demonstrated a high degree of professional achievement and peer recognition. As a member of the legal team at Fibich, Leebron, Copeland, Briggs & Josephson, Greg has leveraged his experience, tireless work ethic, and compassion for helping victims and their families to help the firm secure a number of notable verdicts and settlements on behalf of clients. These include positive results in even the most challenging and contested cases involving commercial vehicle wrecks, product liability, pharmaceutical litigation, oil and gas law, serious injuries, and wrongful death, among others.
With his fourth consecutive inclusion on the Texas Super Lawyers list of Rising Stars and his additional selection to the Up-and-Coming 100, Greg has solidified himself as a lawyer to watch for great things, especially when facing off against powerful corporations and insurance companies that place profits over people. By leveling the playing field between hard-working victims and legal adversaries that utilize assets to minimize payouts, Greg provides the insight and resources clients need to ensure their voices are heard in the civil justice system.
Greg's commitment to justice will continue to be a driving force behind Fibich, Leebron, Copeland, Briggs & Josephson's success in representing victims and families throughout Houston and the state of Texas. You can learn more about Greg and the firm by visiting http://www.fibichlaw.com.