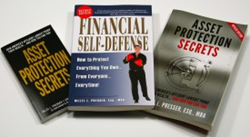 For every 60 minutes you spend making money, spend 60 seconds thinking about how to protect it!
Boca Raton, Florida (PRWEB) March 30, 2017
Integrated Estate Planning is the process of combining Asset Protection with Estate Planning to achieve ultimate asset planning objectives. Integrated Estate Planning is necessary for individuals who have a range of net-worth. An Integrated Estate Planning addresses a multitude of areas of law including, but not limited to: Asset Protection, Business Law, Estate Planning and Probate. The goal of Integrated Estate Planning is to ensure that an individual's assets are protected during lifetime and after death.
1. Asset Protection Defined
Asset Protection is the legal process of titling both your personal and business assets to put them beyond the reach of future potential threats and creditors using domestic and international planning strategies. Typically, individuals start with a domestic Asset Protection foundation and add onto the foundation as their net-worth grows and their need for additional protection grows. Individuals having a net-worth of $500,000.00 or more may have the necessity of setting up a domestic and international Asset Protection plan from the start. The goal of Asset Protection is keeping assets safe from future potential creditors legally and ethically.
2. Estate Planning Defined
Estate Planning is the process of planning for the disposition of an individual's assets at death. Estate planning typically includes incapacity planning documents (durable power for health care, durable power of attorney for finances as well as a HIPAA Release), a last will and testament and a revocable living trust. Estate Planning could also include Advanced Estate Planning strategies such as the irrevocable life insurance trust ("ILIT"), qualified personal residence trust ("QPRT") and other similar vehicles to distribute assets to family members safely and cost effectively.
3. How Asset Protection is Combined with Estate Planning to Achieve Integrated Estate Planning Objectives
Integrated Estate Planning requires the creation of both an Asset Protection plan and an Estate plan. The Asset Protection plan should related back to or overlap with the Estate plan. For instance, instead of an individual owning a holding company in their individual name, they can own the business interest in a revocable living trust. In that case, assets included in an Asset Protection plan are protected during lifetime and continue to be protected at death and are not subject to the creditors of the estate. Further, the membership interests in the holding company do not need to be probated, but rather pass to intended beneficiaries through the revocable living trust. The Integrated Estate plan oftentimes also includes a Business Succession plan (which allows for the continuation of business operations after an owner's retirement, incapacity or death).
4. Integrated Planning Benefits Explained
The major benefit of the Integrated Estate Plan is that all loose ends are tied up. An individual's Estate Plan is coordinated with their Asset Protection (along with a Business Succession Plan). This sort of planning allows an individual to anticipate future potential issues that may affect their business and/or personal assets and create contingency planning for them. An individual can also designate other family members or individuals who will take over their business with plenty of time for appropriate training. An insurance plan may also be taken out, in advance, to account for any cash flow issues at death (usually referred to as "key man" insurance).
The Presser Law Firm P.A., Asset Protection Attorneys, represents individuals and businesses in connection with the establishment of comprehensive Asset Protection plans that incorporate both domestic and international components.
Visit the Law Firm's Visit the Law Firm's website (http://www.AssetProtectionAttorneys.com) for access to educational material on asset protection, business law, estate planning, and probate including webinars, articles and detailed legal explanations.
Contact The Presser Law Firm, P.A., Asset Protection Attorneys for a Complimentary Preliminary Consultation with one of our attorneys or to receive complimentary copies of our latest best-selling books on Asset Protection.
"For every 60 minutes you spend making money, spend 60 seconds thinking about how to protect it!" states attorney Hillel L. Presser, Esq., MBA regarding the importance of protecting your assets proactively.