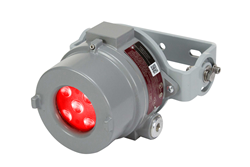 Our explosion proof LED warning crane light provides users with an updated and more efficient way of alerting operators and pedestrians to areas with ongoing crane operations without using the traditional loud audible alarm or inconvenie
Kemp, TX (PRWEB) March 30, 2017
Larson Electronics LLC, a leading industrial lighting company, announced its release of a new explosion proof crane light to be added to its ever expanding catalog of products this week. This explosion proof crane LED warning light (EXHL-TRN-LE4-CRN-RED-1224) is designed to be used to notify nearby pedestrians and workers about ongoing crane operations. This 25-watt unit features a small form factor (SFF) design for easy installation in tight spaces, making it ideal for applications where electrical power and mounting space is at a premium.
The EXHL-TRN-LE4-CRN-RED-1224 Explosion Proof Red Crane LED Warning Light produces 2,250 lumens of intense LED light for real-time visual notification of crane operations. This unit uses five 5-watt red LEDs to provide a high intensity center beam which is visible during daytime and nighttime operations. An adjustable surface mount mechanism also allows operators to control the direction of the beam by tilting the unit towards the desired target.
This explosion proof LED warning light is rated NEMA type 3, 4, 4X, 7 (B,C,D) and 9 (E,F,G) and designed to withstand the harsh conditions of demanding environmental and operating conditions while remaining lightweight and easy to use. The units can operate in temperatures of -40° Celsius to 60° Celsius, and posses the ability to resist an ingress of dust, dirt and humidity.
"Everyone is constantly looking to add new and improved practices to their businesses," said Rob Bresnahan, CEO of Larson Electronics LLC." Our explosion proof LED warning crane light provides users with an updated and more efficient way of alerting operators and pedestrians to areas with ongoing crane operations without using the traditional loud audible alarm or inconvenient strobe light."
About Larson Electronics LLC: Larson Electronics LLC is a manufacturer of industrial lighting equipment and accessories. The company offers an extensive catalog of industry-grade lighting and power distribution products for the following sectors: manufacturing, construction, food processing, oil and gas, military, marine and automobile. Customers can benefit from the companys' hands-on, customized approach to lighting solutions. Larson Electronics LLC provides expedited service for quotes, customer support and shipments. To learn more about their products call 1-800-369-6671 or 1-214-616-6180 for international inquiries.