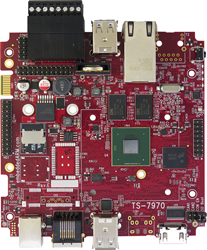 The Swiss Army Knife of the embedded computing world.
Fountain HIlls, AZ (PRWEB) March 30, 2017
Technologic Systems, an Arizona based embedded computing company, has announced the introduction of its newest industrial single board computer, the TS-7970. The TS-7970 takes full advantage of the powerful features of i.MX6 NXP CPU based on the ARM Cortex A9 core.
"We designed the TS-7970 to be the Swiss Army Knife of the embedded computing world. It can drive HDMI displays and play audio files while controlling and communicating with external industrial machines, and still keep up with applications moving data around. The TS-7970 can thrive in any setting or application.", said Robert Miller, company Founder and President.
The TS-7970 is ideally suited for deployment into a wide range of cost-sensitive and robust industrial applications and is truly a high end general purpose single board computer ideal for smart devices, auto entertainment systems, medical systems, enterprise class intelligent control, plant automation, or any high-end embedded systems.
The TS-7970 offers outstanding computing power with very low power consumption. The TS-7970 features a power consumption of only 3 watts (typical), and fanless operation over the full industrial temperature range (-40° to +85°C). Offered standard with 4GB of eMMC, and up to 2GB of RAM there is plenty of memory for most applications, but for those applications where there is never enough storage the TS-7970 offers an mSATA socket for upgrades. There is abundant I/O and excellent connectivity with Gigabit Ethernet, USB Host, USB Device, RS-232 Serial/COM Ports, RS-485 Serial Port, SPI Bus, I2C Bus, CAN Bus, Modbus, WiFi 802.11b/g/n, and Bluetooth 4.0+EDR,. Also on-board is integrated HDMI and audio jacks to get the most out of the i.MX6 multimedia features.
The TS-7970 also includes an FPGA on board for extending the feature set of the i.MX6 beyond what is offered by NXP. The FPGA includes a crossbar that allows the user to select the mode of the FPGA controlled I/O pins. The modes include UARTs, Digital I/O, interrupt requests, or passing through high speed IO from the CPU. The FPGA also adds an additional UART controller. Additionally Technologic Systems can develop custom FPGA solutions for individual applications which could include features like PWM, quadrature, or other custom I/O controllers.
The TS-7970 comes with a robust combination of development tools to facilitate quick customization for embedded product developers. Multiple operating systems are available including Debian Linux, Yocto Linux, Ubuntu Linux and QNX. The TS-7970 comes with a complete Board Support Package (BSP) as well access to online guides, schematics, source code, toolchains and binaries available for download from software repository. Additional software or application development can be supported through the Technologic Systems' Partner Network.
As with all of Technologic Systems products the TS-7970 includes free extraordinary hardware and software support from the engineering team out of the Fountain Hills, AZ offices and comes with a standard 1 year warranty and 10+ year lifecycle guarantee.
About Technologic Systems, Inc.
Technologic Systems has been in business for 32 years, helping more than 8000 OEM customers. We build over a hundred different COTS products that have never discontinued a product. Our commitment to excellent products, low prices, and exceptional customer support has allowed our business to flourish in a very competitive marketplace. We offer a wide variety of single board computers, computer-on-modules, touch panel PCs, PC/104 and other peripherals, and industrial controllers that satisfy most embedded project requirements. We also offer custom configurations of our standard products and provide design services for fully customized products. We specialize in the ARM and X86 architectures, FPGA customization, and open-source software support, providing advanced solutions using hardware-software co-design strategies.
Technologic Systems
Fountain Hills, AZ
http://www.embeddedARM.com
(480)837-5200