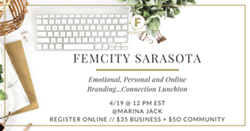 Sarasota, FL (PRWEB) April 04, 2017
Professionals with expertise in emotional, online and personal branding strategies critical for flourishing in today's marketplace will speak at a luncheon hosted by FemCity on April 19, 2017, at Marina Jack.
The panelists will offer branding tips aimed specifically at women business owners, entrepreneurs, and employees committed to increasing their bottom line, gaining new customers, and hiring new talent.
"This is a unique opportunity to gain first-hand knowledge from successful local professional women," said Renée Frigo Graeff, presenter, Co-founder and former CEO of Lucini Italia. Lucini Italia is known for their award-winning extra virgin olive oil and recognized as the premium Italian food brand in over 20,000 stores with more than 60 natural, specialty and organic products.
Other panelists include; Lorraine "Lola" White, Managing Partner of Executive Connections llc, a global marketing strategy, executive search and career management firm; and Jerah Lena Coviello, co-founder and COO of the nonprofit organization Science Under Sail Institute for Exploration (SUSiE), dedicated to advancing the exploration and scientific research of coral reef ecosystems worldwide.
"It is an honor to be a part of this stellar panel. I am looking forward to an insightful and fun-filled afternoon," said Frigo Graeff.
FemCity is a professional women's organization that provides business connections, resources, and inspiration to female entrepreneurs online and across 75 communities.
Additional information about the event can be found at http://www.femcity.com/events/femcity-sarasota-april-event.
DETAILS: April 19 12:00 pm - 2:30 pm
VENUE Marina Jack
Location 2 Marina Plaza
For more information about panelists:
Lorraine "Lola" White | LinkedIn
Renée Frigo Graeff | LinkedIn
Jerah Lena Coviello | LinkedIn