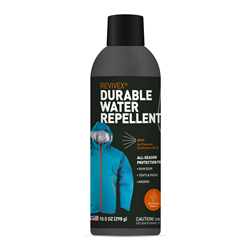 We're always looking for ways to give our customers a better product experience.
Bellingham, WA (PRWEB) March 28, 2017
GEAR AID introduces a new spray bottle for its best-selling outerwear care product, ReviveX® Durable Water Repellent. The old plastic bottle in 5oz and 10oz sizes will be discontinued and replaced with a larger 10.5oz metal container that uses air-powered technology for a continuous spray that is easier to apply – improving the overall user experience. Suggested retail price (MSRP) remains the same at $13.95.
The new ReviveX Durable offers a continuous spray that can be dispensed at any angle, even upside down. With just a press of a button, the ReviveX water repellent formula goes on smoothly and evenly on fabrics. "We're always looking for ways to give our customers a better product experience," says Cheriss Faiola, GEAR AID's marketing and PR manager.
The new ReviveX Durable spray bottle is recyclable and houses an inner pouch. "The technology is great because it's air-powered and no petroleum-based propellants are used," says Christian Rudolph, GEAR AID's product development director.
While the package has changed, ReviveX Durable is still the best formula you can buy – effectively repelling water, oil, stains and dirt all season long. ReviveX is an ideal protective spray for tents, waders and waterproof, breathable materials including GORE-TEX fabrics. Over time, rainwear and outdoor gear factory-treated with durable water repellent (DWR) wears off. Learn how to waterproof a jacket on our blog.
About GEAR AID
GEAR AID is rooted in the outdoors. Built on the back of trusted repair and maintenance products for outdoor gear, GEAR AID empowers consumers to Make Outside Yours. In 2016, we introduced a series of light and power stations that can be mounted to illuminate virtually any task. For more information, visit: gearaid.com.