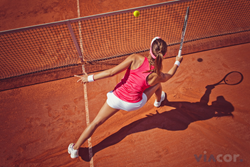 We look forward to introducing our German technology into the USA. The partnership with RedClay USA is an exceptional joint venture, and together we are sure to improve and grow U.S. tennis
Rottenburg, Germany (PRWEB) March 31, 2017
The newest RedClay court system from Viacor has recently been chosen for the popular WTA Porsche Tennis Grand Prix, naming Viacor as the Official Court Supplier. The elite of women's tennis will participate in April in Stuttgart, at this traditional event – including world number one Angelique Kerber, Maria Sharapova and Madison Keys from the U.S.
"We look forward to introducing our German technology into the USA. The partnership with RedClay USA is an exceptional joint venture, and together we are sure to improve and grow U.S. tennis," says CEO and owner of Viacor, Dr. Ralf Jooss.
"Amateur and professional tennis players and fans will be thrilled that America can now take up the culture of RedClay tennis," says Tommy Dahl, Viacor International Sports Director, adding, "We're positive American kids will quickly embrace the European and South American traditions of RedClay tennis, now that we've made it affordable, fun and the most practical of any tennis court."
Viacor and RCUSA are committed to the widespread introduction of the RedClay pro™ throughout the U.S. Constructed with real terra-cotta red clay, the new court systems have virtually eliminated all the typical maintenance costs associated with regular clay courts, yet provide all the advantages, at similar installation costs.
"The Porsche Grand Prix Tennis event can hold their tournament on any kind of tennis court it wants. Yet, the WTA and Porsche both have chosen to play the event on RedClay Pro™. Their choice of court speaks highly of our latest RedClay pro™ technology," says exclusive RCUSA court builder, Joe Van Kalker.
RCUSA CEO Brian Osterberg adds, "Our relationship with Viacor is setting a new benchmark for American tennis courts, and can change the way we teach our children tennis."
Interested parties can contact: viacor.de or redclayusa.com
RCUSA, tel: 231 622 1869 Contact Person: Brian Osterberg, info(at)redclayusa(dot)com
Viacor Polymer GmbH, tel: 0047 93618 888 Contact Person: Tommy Dahl, tommy.dahl(at)viacor(dot)de