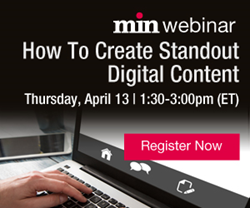 New York, NY (PRWEB) March 31, 2017
min will host an interactive webinar, "How to Create Standout Digital Content," on Thursday, April 13 from 1:30-3:30 p.m. (ET). Trainers include Breanne Heldman (Deputy News Director at Entertainment News), Kristen Maxwell Cooper (Executive Editor, Digital at The Knot) and Kate Spies (VP, Editorial & Audience Development at Bauer Xcel).
The webinar comes at a pivotal time for writers. According to a recent salary survey by Folio:, digital editors significantly out-earn those at print magazines.
At the webinar, participants can expect to learn:

How to identify and leverage topics for your audience
How to write headlines that readers have to click
How to maintain your editorial voice across platforms
Which formats perform best with specific demographics
How to leverage social media to promote and amplify your own content
How to leverage audience insights and the right KPIs to tweak your digital strategy
How to draw the line between highly engaging content and clickbate
What makes content go viral
The interactive min webinar will include real-time question and answer sessions with each speaker to ensure that specific questions are answered. To register, visit: http://www.minonline.com/webinars/digital-content/.
All webinar attendees will receive full access to speaker presentations for one year. Webinar tuition accommodates multi-person teams, so each registration site can have multiple participants for one low price.
For questions about the webinar content or assistance in registering, contact Zoe Silverman at zsilverman(at)accessintel(dot)com.
About min:
min is the industry's trusted source on the consumer and b2b magazine business, reaching thousands of media executives through print, online and in-person events. For more than 60 years, min has been serving the magazine and media community with unparalleled coverage of this ever-changing industry. For more information, visit minonline.com.