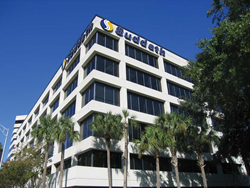 Jacksonville, Fla. (PRWEB) April 03, 2017
The Suddath Companies, a global provider of relocation, transportation and logistics services, and one of America's largest commercial moving companies, announced significant investment to expand its hospitality business and form Suddath Hospitality Solutions.
Suddath is well known for its experience providing commercial moving and storage services in office, industrial, medical, and technology environments. Less known is the fact that Suddath has, in recent years, performed some of the world's largest and most complicated hospitality logistics projects around the world. Recognizing the opportunity to build on an outstanding track record and a market need for consistent national and global solutions, Suddath has hired industry expert Tony Little and formed a new business unit to focus exclusively on the hospitality marketplace.
Tony Little will assume the role of director of operations for Suddath Hospitality Solutions. Little brings with him nearly 30 years in the relocation and transportation industry. Most recently, he served as the managing director of hospitality services for the Kane Company in Washington, D.C., where he grew the hospitality business with annual revenues exceeding $13 million. In his new role, Little will drive standardization across the core hospitality functions of warehousing, delivery and installation with a high degree of focus on inventory management and client access to information throughout the project delivery process.
"With a wholly owned and operated national footprint and a global network of trusted partners, Suddath has a unique opportunity to bring a new level of consistency to the hospitality marketplace. With more than two million square feet of warehousing across the country and a brand new integrated warehouse management system, Suddath has the potential to emerge as the country's market leader in hospitality project solutions. Our vertical integration makes us more competitive than many of the non-asset based providers, and our scale as a global moving, logistics and storage provider gives us a very strong foundation to build on. When you factor in the addition of a well-respected hospitality expert in Tony Little, I anticipate that we will experience significant growth while bringing tremendous value to the customers we serve," said Mark Scullion, president of Suddath's workplace and commercial business.
"Global business travel spending hit record breaking numbers in 2015 at $1.2 trillion, according to a recent Deloitte survey, and continued hospitality market growth is on the horizon," said Tony Little, director of operations, Suddath Hospitality Solutions. "I'm confident that Suddath has the team and processes in place to capitalize on this ripe industry."
In addition to Little, the Hospitality Solutions team will include current Suddath employees Chris Iseley, Amy Little and Travis Eslinger and several new sales and project management roles including one filled by Doug Thompson. Thompson, also a former Kane Company employee, spent more than 20 years working directly with Tony Little in support of Kane's hospitality division. In December 2016, Suddath worked closely with the Kane Company as it filed for bankruptcy. Suddath, at the time, transitioned several former Office Movers employees and purchased a portion of the company's liquidated assets.
# # #
About The Suddath Companies
The Suddath Companies move people, businesses and products. Established in 1919 and headquartered in Jacksonville, Florida, Suddath is a global transportation and relocation management company with services including household goods relocation and global mobility, office moving and total workplace solutions, warehousing and logistics management, and specialized transportation. Suddath has more than 2,000 employees worldwide, over 30 locations and 2.5 million square feet of warehouse space throughout the United States, global operations in Hong Kong, London, Shanghai, and strategic alliances serving more than 150 countries around the world. For more information, visit http://www.suddath.com.