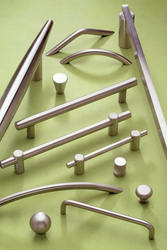 Bogota, NJ (PRWEB) March 30, 2017
Outwater Industries is featuring a newly expanded line of knobs and pulls in our latest catalogue. The update includes recessed pulls from the Lifetime Hardware Collection. Available in round, oval, square, and rectangular shapes, these stainless-steel recessed pulls are come standard or spring loaded and can be finished brushed and black. In addition to the recessed pulls Outwater also carries recessed door pulls which are manufactured from 630 Marine Grade Stainless Steel. This series of pulls are available in a range of sizes from 1-15/16"x7-7/8" to 1-15/16"x39-3/8" and have a beautiful brushed finish.
Included in the latest update as well, are a series of nylon knobs and pulls offered by Lifetime Hardware. These classic pieces are durable and can be used in a variety of different environments. Each knob and pull is available in a range of different colors such as black, navy blue, and red and are stocked in a variety of popular sizes, making it easier to find one to fit your project.
Also available is the Bar Pulls Series which features solid and Hollow 304 grade stainless-steel pulls. The stainless-steel bar pulls offer elegance and modern style and work beautifully with any number of cabinet styles or colors. These pulls have a brushed finished and are available in a variety of different lengths ranging from 5-3/8" to 22-1/16" to suit your needs. Lifetime Hardware's signature bar pulls are also available in solid steel which come in a selection of popular sizes. A variety of finishes are also available including stain chrome and oil-rubbed bronze. Outwater Industries takes pride in stocking the highest-quality products available on the market today for our customers including the full line of Lifetime Collection Hardware.