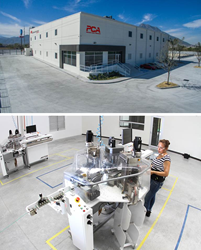 Brookfield, WI (PRWEB) April 04, 2017
Precision Cable Assemblies, Inc. (PCA) is pleased to announce the opening of its newest, state of the art, Harness and Cable manufacturing facility located in Monterrey Mexico.
This new Monterrey location gives PCA and their customer base an additional resource that provides enhanced capacity to support growing demand. Strategically located in close proximity to both a large manufacturing corridor as well as a mature supply base, the facility is positioned to meet the necessary manufacturing efficiencies to achieve challenging cost objectives.
The facility is equipped with new manufacturing equipment for wire processing, terminal application, ultrasonic welding, and component over-molding. A flexible manufacturing layout and cross trained workforce allows the plant to operate efficiently with a diverse product mix. In addition, the facility is fully integrated into a comprehensive corporate ISO Quality System and SAP Business One ERP system.
PCA has a corporate sales and engineering support staff at its corporate headquarters in Brookfield, Wisconsin that will assist with design, routing, and component selection for wiring systems. With production facilities in Brookfield Wisconsin, Qingdao China and Monterey Mexico, as well as prototype capabilities, the company is now able to offer its customer base three cost effective options to support ever expanding global demand.