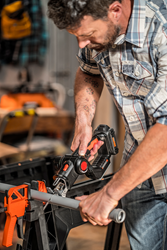 Charlotte, NC (PRWEB) April 04, 2017
The new 20V WORX® Power Share program enables a range of more than a dozen cordless yard and DIY tools, plus three kits, to be powered by the same interchangeable 20V battery, resulting in significant savings and convenience. These 20V Power Share tools include such popular WORX cordless innovations as the Switchdriver drill-driver, Axis reciprocating and jig saw, TURBINE leaf blower, JawSaw, hedge trimmer, drill-driver, impact driver, oscillating multi-tool, and more.
Choose a 20V MAX battery and charger and WORX 20V tools to get projects underway. Add future WORX 20V tools as needed without purchasing a battery or charger for significant savings. Many of the WORX 20V tools in the program start at $49.99.
The WORX 20V MAX 2.0 Ah Battery (WA3525, $49.99) and WORX 45-minute Quick Charger (WA3847, $49.99) are sold separately. The lightweight 2.0 Ah battery delivers long-lasting performance for up to 18 months per charge without self-discharge or memory effect. Its 45-minute charger minimizes downtime and has a built-in power level indicator.
To help kick off the new Power Share program, WORX is sponsoring a 20V Power Share sweepstake, in which 20 winning entries each receive one of the following 20V WORX tools: Switchdriver drill-driver, Axis reciprocating and jig saw, TURBINE leaf blower or LED Worksite Light (bare tool). The sweepstake is being held from April 3 to June 30, 2017. To enter, visit http://www.worx.com.
Some of the Power Share products sold as bare tools (without battery and charger) include:
WORX GT® 2.0 20V String Trimmer/Edger/Mini-mower-Tool Only (WG160.9, $49.99) converts from a trimmer to a walk-behind, wheeled edger or mini-mower in seconds. It features an automatic, single-line feed system and Free Spools for Life.
WORX AIR 20V Blower/Sweeper-Tool Only (WG545.9, $49.99) delivers 120 mph maximum air speed. Eight attachments accomplish a variety of home applications.
WORX JawSaw-Tool Only (WG320.9, $99.99) cuts branches up to 4-in. in diameter. Its blade housing allows for safe cuts directly on the ground, and its jaw design helps prevent kickback. Auto-tension provides optimum chain tension.
WORX 20V TURBINE Leaf Blower-Tool Only (WG546.9, $49.99) employs TURBINE fan technology that pulls air directly into the fan and immediately forces it out through the blower tube at up to 90 mph. It has two-speed control for light or heavy jobs.
WORX 20V Switchdriver Drill-Driver-Tool Only (WX176L.9, $49.99) has dual-rotating chucks to quickly switch between drilling and driving tasks. Electronic torque control provides range of torque setting for screwdriving and drilling jobs. Its ¼-in. hex chuck makes bit changes easy.
WORX 20V 20 in. Hedge Trimmer-Tool Only (WG255.9, $59.99) features dual-action cutting blades with overmold handle to help reduce fatigue.
WORX 20V Drill-Driver –Tool Only (WX169L.9, $44.99) features a 2-speed gearbox and 15+1 clutch positions to handle a wide range of drilling and driving applications. It has a 3/8 in. keyless chuck and an LED work light with low battery indicator.
WORX 20V Impact Driver-Tool Only (WX290L.9, $54.99) delivers 950 in.-lbs. of torque to drive fasteners in hardwoods and other materials. A ¼- in. quick-change chuck allows fast bit changes.
WORX 20V Oscillating Multi-Tool -Tool Only (WX682L.9, $54.99) cuts, saws, sands, scrapes and polishes. The oscillating tool utilizes the WORX Universal Fit™ System that accepts all other brands' accessories.
WORX 20V LED Worksite Light-Tool Only (WX026L.9, $49.99) provides 1500 lumens, which is the equivalent of a 100 watt light bulb. The high-performance, tempered-glass LED light's frame rotates north to south 360º.
Also included in the WORX 20V Power Share program, are:
WORX 20V Axis Reciprocating and Jig Saw (WX550L, $99.99) features a pivoting head that converts from a jig saw to a reciprocating saw. The lightweight, compact tool uses standard reciprocating saw and T-shank jig saw blades.
WORX 20V String Trimmer and Edger (WG154, $59.99) converts from string trimmer to edger in seconds. It features an adjustable cutting width from 10-12 in. and automatic single-line feed.
WORX 20V GT Trimmer and AIR Blower Combo Kit (WG951.4, $179.97) combines these two high performance yard tools plus two batteries and charger.
WORX 20V Switchdriver Drill and Driver w/67 pc. Accessory Kit (WX176L.1, $144.99) includes the versatile Switchdriver with two revolving ¼ in. chucks and two MAX batteries, charger, 67-piece accessory kit and hard case.
WORX 20V 2-Piece Combo Kit (WX916L, $139.98) includes the 20V Drill-Driver and 20V Impact Driver, two 20V MAX batteries, charger and carrying case.
All WORX 20V MAX yard and DIY tools carry a 3 year warranty and 30 day money back guarantee. They are available at http://www.worx.com and online retailers.
To reach out to WORX social media links visit: Facebook: https://www.facebook.com/worxus?ref=hl; Twitter: https://twitter.com/WORXTools; Pinterest: http://pinterest.com/worxtools and Instagram: @WORXTools