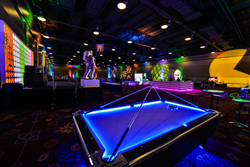 "We're incredibly proud of how our team wove together stylish design, decor, lighting, music, and activities to create this spectacular event for our client and their 850 guests," remarked Beverly Brin, DMCP, Ultimate Ventures' General Manager.
Addison, Texas (PRWEB) March 31, 2017
Ultimate Ventures®, a DMC Network company, won the coveted Texas Star Award for Best Corporate Event (with a budget over $150,000) for their "Totally Awesome 80's" event at the Texas Star Awards gala on Sunday, March 26, 2017. The event was held at the Hilton Anatole Hotel and produced by the Texas Chapters of the International Live Events Association (ILEA).
The Texas Star Awards is a globally recognized awards competition designed to honor the exceptional professional achievements of individuals and organizations from the events industry. The best corporate event category honors excellence in the planning and execution of a corporate event.
Ultimate Ventures' award-winning "Totally Awesome 80's" event was created for 850 pharmaceutical salespeople for the closing night of their annual sales meeting. "What a fabulous surprise and honor for our company!" said Beverly Brin, DMCP, General Manager of Ultimate Ventures. "This sensational 80's event was the result of months of collaboration, innovation, and tremendous teamwork between our client, our team and our vendors. In addition to the success of the event, it was especially gratifying to be able to facilitate the donation of 850 pairs of shoes to local charity, Love for Kids, with TOMS Shoes matching the donation and sending an additional 850 pairs of shoes to those in need."
As the most awarded destination management company (DMC) in Texas, Ultimate Ventures prides itself on providing exceptional experiences for clients holding meetings and conferences in the Dallas-Fort Worth area. The Ultimate Ventures team works with meeting and event planners to arrange and execute the best destination services in town ranging from VIP airport transfers to multi-day conferences filled with spectacular special events and unique local activities.
About Ultimate Ventures, a DMC Network Company
Ultimate Ventures was founded in 1993 by business partners and University of Texas at Austin alums, Laurie Sprouse and Val Lenington. After meeting on Semester at Sea and traveling the world together in college, they have grown their company to a team of 16 full-time destination experts who work with meeting professionals to bring the best of Dallas-Fort Worth to life. As North Texas' first accredited DMC and recognized as a Top 25 DMC worldwide by Special Events magazine, they assist planners with a full range of services including special events, entertainment, team-building, group excursions, spouse tours, gifts, and transportation logistics.
To learn more about Ultimate Ventures, a DMC Network Company, visit our website at http://www.uvdmc.com .